Document Actions
Charleston
Up one level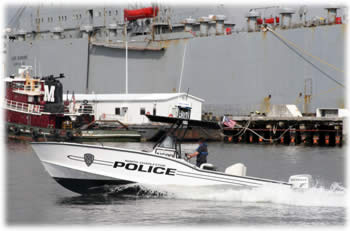 FLETC-Charleston is situated on the site of the former Charleston Naval Base in South Carolina. It was established in 2004 and is one of three FLETC residential training sites in the United States.
As the FLETC's newest site, the training programs continue to grow. The facility uses both on-center and off-site lodging accommodations and has a dining facility capable of serving more than 1,000 students and staff.
In addition to multiple classrooms, an indoor firing range, and a newly-constructed physical techniques complex, FLETC-Charleston also offers a variety of maritime training platforms that includes a 494' break bulk freighter.
In 2004, the U.S. Coast Guard established its Maritime Law Enforcement Academy at FLETC-Charleston. The U.S. Courts, Federal Probation and Pretrial Services established its training academy in Charleston in 2005. In 2007, Customs and Border Protection and the Immigration and Customs Enforcement also established satellite academies in Charleston. The U.S. Naval Criminal Investigative Service also began training at the site in 2007.
Contact Information
FLETC Charleston Emergency Operational Status Line:
(843) 746-7755
Additional Information