Document Actions
Artesia
Up one level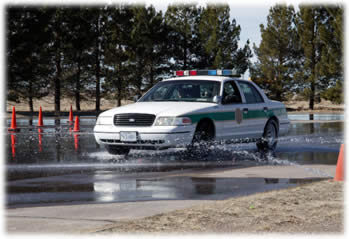 The FLETC's FY89 appropriation contained funds and authorization for the FLETC to purchase and renovate the former Artesia Christian College in Artesia, New Mexico, and operate it as a training center. The FLETC is situated on 220 acres in the northwest section of the City of Artesia. When purchased in June 1989, there were seven major buildings containing approximately 94,690 square feet.
Arrival
We ask that you arrive at the FLETC NO EARLIER THAN 12:00 NOON THE DAY BEFORE the beginning of training. Facilities and accommodations will not be available before this time. If you must arrive earlier, WRITTEN PERMISSION FROM YOUR EMPLOYING ORGANIZATION indicating the nature of the official business requiring early arrival must be submitted to your organization representative. If you plan to arrive at the FLETC after 7 p.m., you should make arrangements for your evening meal, as the cafeteria will be closed. If you are traveling by privately owned vehicle (POV), try to arrive before 10:00 p.m. so dormitory registration is assured.
Commercial Air Service
If you are traveling to the FLETC by commercial air service, we encourage routing your travel into the Roswell Airport, serviced by American Eagle Airlines, via the Dallas/Fort Worth airport. American Eagle reservations can be made at www.aa.com. The Roswell Airport is approximately 40 miles from the FLETC. The FLETC will provide bus transportation to and from the airport.
Traveling with Weapons
You are reminded that all Federal law enforcement officers must be in compliance with 14 CFR Part 108 of the Federal Aviation Regulations. These governing regulations place certain restrictions on both airlines and federal law enforcement officials. Under these regulations, law enforcement officers in official travel status who are required to report armed and immediately ready for duty are permitted to travel armed (weapon in their immediate control) on board a commercial aircraft. These are additional qualifying conditions for flying armed, including: agency firearms authorization based upon arrest authority, completion of a certified training course covering Federal Aviation Administration (FAA) guidelines and alcohol abstinence. Additionally, you must present proper credentials and complete required airline forms. If you place your firearm in checked luggage FAA regulations:
Firearms will be unloaded
Firearms will be secured in a locked, hard-sided carrying case, and placed inside either soft-side or hard-sided luggage.
Upon check-in, the airline ticket agent shall be notified that the checked luggage contains an unloaded firearm(s).
Firearms shall not be stowed in the crew compartment(s) of an aircraft.

Pursuant to FAA regulations, airlines are required to place notification of unloaded firearms inside checked luggage. Some airlines require that the identification tag be placed inside the locked carrying case, while other airlines place the identification tag inside the luggage. Officers should request that no such identification be displayed on the outside of any luggage containing a firearm, however, airlines may utilize external tags when long guns are transported in locked cases.
Ammunition should be packed to afford the same protection as a weapon. Ammunition must be placed in a locked hard-sided case and be packed to protect the primers. Manufacturers original boxes, magazines, and speed loaders are acceptable for protection and packing. Ammunition may be placed in a locked hard-sided container with an unloaded weapon.
Mace, Pepper (OC), and other chemical agents are prohibited on board aircraft. This FAA prohibition covers both passenger and luggage storage areas.
NOTE: Some airlines, including those serving the local airports, have interpreted the locked hard-sided requirement to include the luggage container. You should be aware that some airline personnel may refuse the transportation of weapons in locked hard-sided cases placed inside locked soft-sided luggage. If you encounter any problems, please ask the airline agent to contact the airline ground security coordinator (GSC). The GSC should be able to assist you and resolve any problems.
Transportation to the FLETC
Transportation differs for each class. You will be individually contacted by your class coordinator prior to departure for Artesia on specific information as to how you will arrive in Artesia.
These times may be adjusted if flights are canceled. If you arrive in Roswell after the departure of the last FLETC bus due to delayed flights, you may call the FLETC Security Office at (575) 748-8136 to arrange for special transportation. If your late arrival is due to other than a delayed flight, you are responsible for your own transportation to the Center. Departure Transportation
In order to make your flight on the day after graduation, the FLETC bus departs the Registration Area at the following times: 4:30 a.m., 7:30 a.m. and 9:30 a.m.
Departures at any other time must be arranged in advance through your Faculty Advisor or Agency Class Coordinator. Information on Driving to the FLETC
The FLETC-Artesia is located approximately 40 miles southwest of Roswell, New Mexico, at 1300 W. Richey Avenue, Artesia, New Mexico (13th Street and Richey Avenue), approximately one (1) mile off U. S. Highway 285. There are directional signs off Highway 285. Attached to this handbook is a map of the area.
If you are driving a personal vehicle, to enter the FLETC you are required to have a valid driver's license and proof of insurance coverage equal to, or greater than, $25,000 for personal injury per person or $50,000 per accident and $25,000 for property damage in any one accident. A parking pass for the period of your stay will be issued when your vehicle is registered. Please display it inside the windshield of your vehicle at all times.
Parking space for your use is provided around the dormitory. Spaces in the vicinity of the office and classroom buildings are designated for FLETC and Partner Organization staff only. If you park in other than student-designated parking areas you will be assessed traffic violation points. An accumulation of sufficient points will result in the revocation of driving privileges on the FLETC.
Interstate Bus Service
Bus service to the FLETC is by New Mexico, Texas and Oklahoma Bus Company, commuting daily on a generally north-south route. There are bus stations in Roswell, Artesia, and Carlsbad. If you plan to arrive by bus, you must notify your agency regarding transportation no later than five (5) days prior to arrival.
Special Needs
If you have a special need, we ask you to notify your organization representative or the FLETC as soon as possible so arrangements can be made. Ground level handicapped dormitory rooms are available, as are refrigeration needs for prescribed medications. These services are available upon request.