Document Actions
Our Director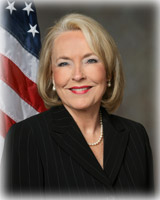 Connie L. Patrick, Director
Federal Law Enforcement Training Center
Director Connie Patrick was selected as the fifth Director of the Federal Law Enforcement Training Center (FLETC) in July 2002. Previously, Patrick spent over six years in various FLETC Associate Director positions. She provides oversight for the training of the majority of federal officers and agents. FLETC serves 91 federal agencies; provides training to state, local, and international police; and graduates over 70,000 students annually.
Headquartered on approximately 1,600 acres at Glynco, near Brunswick, Georgia, the FLETC also operates facilities in Artesia, New Mexico; Charleston, South Carolina; Cheltenham, Maryland; and provides academic, operational and program support for the International Law Enforcement Academies in Gabarone, Botswana; San Salvador, El Salvador; Bangkok, Thailand and Budapest, Hungary.
Prior to her appointment at the FLETC, Patrick completed a distinguished 20-year sworn law enforcement career in Florida, starting in 1976 as a deputy sheriff with the Brevard County Sheriff's Office. She served in uniform patrol, vice and narcotics, homicide, and intelligence. In 1981, Patrick became a Special Agent with the Florida Department of Law Enforcement (FDLE). The FDLE investigated protracted multijurisdictional organized crime in the State of Florida. Patrick was promoted to Special Agent Supervisor, Assistant Special Agent in Charge of the Tampa Regional Operations Bureau, Special Agent in Charge of the FDLE Intelligence and Investigative Support Bureau, Director of the Florida Criminal Justice Executive Institute in Tallahassee, and retired as Director of the Division of Human Resources and Training.
Patrick is active in the community and serves as an advisor to the College of Coastal Georgia Foundation. She serves as the Chairperson of the INTERPOL Group of Experts on Police Training (IGEPT) and serves on the Executive Committee of the National Law Enforcement Exploring Committee.
Patrick has received numerous awards, including the Distinguished Presidential Rank Award and the Presidential Meritorious Rank Award, the government's highest Civil Service awards. Patrick holds a Bachelor of Arts degree in Criminal Justice from the University of Central Florida.