Registering to Vote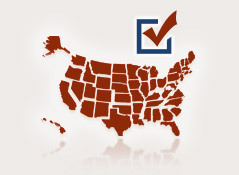 On November 6, 2012, people across the U.S. will vote for the next president, as well as other state and local offices.
The U.S. Election Assistance Commission has resources for voters, including voter guides, registration information, voting accessibility, and information for military and overseas voters.
Voter Eligibility
To be eligible to vote, you must be a U.S. citizen. In most states, you must be 18 years old to vote, but some states do allow 17-year-olds to vote. States also have their own residency requirements to vote. For additional information about state-specific requirements and voter eligibility, contact your state election office.
How to Register
In almost all states, you can register by mail to vote using the National Mail Voter Registration Form. North Dakota, Wyoming, American Samoa, Guam, Puerto Rico, and the U.S. Virgin Islands do not accept the National Mail Voter Registration Form. New Hampshire accepts it only as a request for an absentee voter mail-in registration form. If you live in one of these states, please check with your state election office to find out how to register to vote.
You may also use the National Mail Voter Registration Form to update your registration if you changed your name, to change your address, or to register with a political party.
You may be able to apply to register to vote in person at the following public facilities:
State or local voter registration and/or election offices
Public assistance agencies
State-funded programs that serve people with disabilities
Any public facility that a state has designated as a voter registration agency
In some states, you can also register online to vote. To learn if your state offers online voter registration, please contact your state election office.