About Citizen Corps Councils
Happy Birthday, Citizen Corps!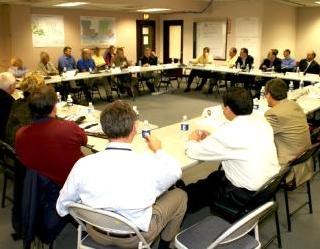 Dear Partners in Preparedness,
FEMA's Individual and Community Preparedness Division celebrates the 10th Anniversary of the Citizen Corps Program! Individuals from around the country have led the way of implementing the Citizen Corps mission of helping communities become safer, stronger, and better prepared to respond to disasters of all kinds.
To commemorate 10 years of service, Citizen Corps reaffirms its position and role as the table to which all organizations and members of the community are welcome to share ideas and learn about what to do before, during and after a disaster.
Citizen Corps Councils and their members continue to make a difference in communities and drive us toward becoming a more resilient nation. Some of the contributions of the more than 1100 Citizen Corps Councils include:
Increased awareness through public education and training. Citizen Corps Councils on average, support four to five types of outreach to increase personal preparedness. Most Councils (70.5 percent) provide all hazard public education and training. In addition, most councils provide education and training on essential local information includes local alerts and warnings (81.1 percent), local sheltering (75.5 percent), local evacuation (66.3 percent)*, family emergency planning (90.4 percent) or local drills (64.5 percent).*
Preparing communities through public service. Citizen Corps Council jurisdictions promote volunteer support for emergency managers through 176,669 volunteers as reported in 2010. Citizen Corps Council's volunteer hours totaled 3,057,248 in 2010 alone.*
Promoting whole community in support of comprehensive emergency planning. 70 percent of Councils supported whole community planning by discussing, reviewing or providing input to key local plans such as community vulnerability/risk assessments, mitigation plans, evacuation plans and shelter plans.*
The power of Citizen Corps is maximized with the support of its incredible Partner Programs and Affiliates. FEMA continues to support the Citizen Corps model to leverage existing programs and projects to advance the common goal of nationwide preparedness and resilience. No one can do this job alone and partnerships are the key to our success in keeping people safe Some recent partnerships include collaborating with the Department of Education and the American Red Cross to increase community engagement in Youth Preparedness and working with Operation Hope to ensure individuals have access to tools necessary to strengthen their financial stability in times of disaster. The work of Community Emergency Response Teams, USAOnWatch, the Medical Reserve Corps, Fire Corps and Volunteers in Police Service also play a strong role in providing communities with the capability to be more resilient in times of emergency.
FEMA is proud to be a part of the movement to prepare communities - to be a part of a team with a vision for a country that is informed, ready and self-reliant in times of emergency. FEMA thanks you for a decade of service and dedication and looks forward to what the next 10 years will bring.
We hope you will keep in constant communication with us, and share your ideas, hear about new resources and offer your opinions in 2012 and beyond by joining calls, webinars and online idea sharing:
FEMA Think Tank: You can submit ideas and participate in an open dialogue and discussion on our online collaboration platform.
Also be sure to join the monthly Ready.gov call held the first Tuesday of every month at 3:00 PM EST: Call-in number: 1-800-320-4330 Pin Number: 000147. Let us know well ahead of time if you have a good practice you are willing to share with other state and local programs.
Download the State and Local Guide (28-page PDF)
Sincerely,
Paulette L. Aniskoff
Director of Individual & Community Preparedness
National Preparedness Directorate
Federal Emergency Management Agency
*Information provided is reflective of the 2011 Citizen Corps Council Registration Data