Neighbors Helping Neighbors Through Preparedness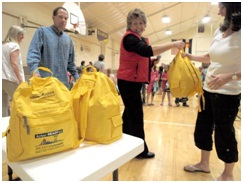 Comprehensive preparedness requires the whole community to participate and FEMA places tremendous value on communities that embrace a local "Neighbors Helping Neighbors" approach. Neighbors Helping Neighbors empowers community leaders to involve and educate individuals from their community about simple steps one can take to become more prepared. 46 percent of individuals expect to rely a great deal on people in their neighborhood for assistance within the first 72 hours after a disaster. When the whole community comes together to respond to and help recover from these emergencies - neighbor helping neighbor - we can often meet the needs of everyone.
The Neighbor Helping Neighbor approach seeks to support state, tribal and local agencies, civic organizations, faith-based groups and other community organizations that serve the whole community. FEMA works to provide these organizations with additional tools and preparedness training opportunities so they can become more prepared. This includes Independent Study 909 - Community Preparedness: Implementing Simple Activities for Everyone and the Community Preparedness Toolkit.
Communities are already using neighbor helping neighbor approach, click here to see how you can get involved! FEMA stands in strong support of existing programs and encourage those interested in getting started to use our resources on this page and on our "Preparedness Starts at Home" resource page.
We welcome suggestions for the resources available under our "Preparedness Starts at Home" resource page! If you know of a great preparedness tool, please email it to citizencorps@dhs.gov with "Neighbors Helping Neighbors tool" in the subject line.
Community Preparedness: Implementing Simple Activities for Everyone
FEMA's IS-909 course and "Preparedness Activities for Communities Everywhere" tools support communities already engaged or interested becoming more prepared. To support new and existing neighborhood preparedness programs, Preparedness Activities for Communities Everywhere tools are comprised of 16 preparedness modules on topics ranging from preparedness on a budget (6-page PDF) to fire extinguisher operation (8-page PDF) and specific topics such as disaster planning for a pet or service animal. Attending preparedness training is a step individuals can take to become better informed. As community leaders, the tools are designed for anyone to use in coordination with your local emergency preparedness partners to help better prepare those you serve for emergencies. The tools include: