Youth Preparedness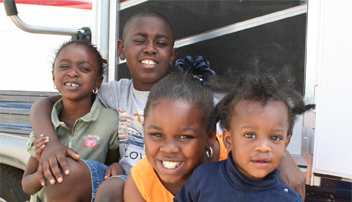 FEMA ANNOUNCES DEVELOPMENT OF YOUTH PREPAREDNESS COUNCIL
On July 23, 2012, FEMA announced the formation of its first Youth Preparedness Council. The Council supports FEMA's emphasis on and dedication to involving the whole community in preparedness related activities. "Engaging youth is an integral step in preparing the nation for all hazards," said FEMA Administrator Craig Fugate. "Youth have a unique ability to influence their peers and families to be more resilient, and children play an important role in disaster preparedness, during and after a crisis."
FEMA's Youth Preparedness Council is a unique opportunity for a select group of youth leaders to serve on a highly distinguished national council and to voice their opinions, experiences, ideas and solutions to help strengthen the nation's resiliency for all types of disasters. Nominated by individuals who can attest to their preparedness activities, Council members demonstrate a willingness to represent the youth perspective on emergency preparedness and take information back to their communities to share it.
Children comprise approximately 25 percent of our nation's population and are the future of our communities. They can play an important role in disaster preparedness and each have the unique ability to help their communities be safer, stronger and more resilient before, during and after a disaster or emergency event. As such, we all have a vested interest in engaging and empowering youth to become active participants in individual, family, and community preparedness. Research states that:
Youth who are trained in preparedness are more resilient in actual disasters.
Youth are highly effective messengers for reaching and influencing parents and other adults.
Youth who are engaged today will ensure a future generation of prepared adults.
Youth Preparedness: A Partnership between the Federal Emergency Management Agency, U.S. Department of Education and the American Red Cross
Children can play an important role in disaster preparedness and each have the unique potential to help their communities be safer, stronger and more resilient before, during and after a disaster.
Benefits of Youth Preparedness
Youth Preparedness is a priority at the Federal level, and is important to the resilience of any community. Leading educators and scholars in the field of preparedness education consider our nation's youth to be the best envoy for taking preparedness messages home to their families. Findings show that households with schoolchildren who brought home preparedness materials are significantly more likely to be prepared on a range of preparedness measures than households with schoolchildren who did not bring home preparedness materials or households without schoolchildren. Of particular note, seven in 10 (70 percent) of these households receiving preparedness information from their children's schools indicated they have a household plan they have discussed with family members compared to only four in 10 (40 percent) amongst other households. Similarly, more than twice as many of these households reported having participated in a home evacuation or shelter-in-place drill.
Children ARE Influencers

Educators and social researchers agree, children are the best messengers for home-based preparedness and can convince their parents to prepare.
Children brought home the lessons of seat belt safety which is now considered second nature to many.

Children ARE Leaders

Today's children can become the leaders who will ensure future generations are also prepared.
Earlier youth-targeted, anti-smoking education helped reduce usage rates among today's teen population.

Children ARE First-Responders

During an actual emergency, prepared children are more confident than their peers.
That confidence can translate to real impact—for their own lives and for their family, friends, and neighbors.
Tips for Successful Youth Preparedness Programs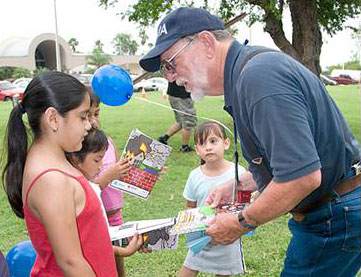 To locate an existing program, check out our Catalogue of Youth Disaster Preparedness Education Programs (23-page PDF). You can also contact your local Citizen Corps Council for more information on getting started. Additionally, FEMA provides guidance to states to encourage youth programming support at the local level. FEMA Homeland Security Grant Program Guidance (92-page PDF) allows for youth preparedness as an allowable activity (included in the Homeland Security Grant Program Suite).
Promote Interactive Activities within Families, such as the development of a family emergency plan.
Give Special Consideration to Bilingual Children, as they can serve as conduits of information to their friends and family who do not fully understand English.
Use Real World Events to Teach About Emergency Situations and Disasters. Materials in the public domain (media coverage of a hazard, checklists, FEMA resources, other government and nonprofit organizations) provide information on local hazards and appropriate preparedness and response actions.
Use Presentations by Local Emergency Management Practitioners who are engaging and support preparedness activities.
Engage Partners. Youth Preparedness cannot be the responsibility of only one organization. It requires the collaboration and support of a variety of organizations and individuals.
Integrate and Coordinate Emergency Preparedness for Children with Disabilities and others with access and functional needs before, during, and after a disaster.

Get Direct Advice and Support from FEMA. Citizen Corps can provide technical assistance to support you as you develop, promote and sustain quality youth preparedness programs in your local community. Simply send us your questions or request to CitizenCorps@fema.gov and put "Youth Preparedness" in the Subject line. We will respond within two business days to acknowledge receipt and to help you achieve your goals.
Get Involved
FEMA provides a host of valuable resources to utilize when developing a youth disaster preparedness program.
Stay Connected. Sign up today for new information and pertinent resources from FEMA and our partners about youth preparedness.
Attend a Workshop. Register for one of FEMA's monthly Youth Preparedness technical assistance workshops.
Get Informed (23-page PDF). Learn more about brining Youth Preparedness Education to the Forefront.
Online Activities for Children. Access a number of activities for kids, parents and teachers.
Helpful Resources
The following programs provide educational resources for teachers and parents:
The Department of Education
The Girl Scout Council of the Nation's Capital and FEMA's Community Preparedness Division partnered to develop a Preparedness Patch program in order to provide information and activities in emergency preparedness appropriate for all levels of Scouts, from Daisy through Ambassador.
American Red Cross, Masters of Disaster provides a series of ready-to-go lesson plans to help organizations educate youth about important disaster safety and preparedness information
Risk Watch, a comprehensive injury prevention program designed for use in the classroom, with separate modules for pre-K through 8th grade.
Other partners including community and faith-based organization, the Girl Scouts of America, Nickelodeon, Federal Alliance for Safe Homes (FLASH), Save the Children, Great ShakeOut, and many more.