You Are Here: AHRQ Home > Pathfinder: Men's Health Program
Men's Health Program
The Agency for Healthcare Research and Quality (AHRQ) supports research on all aspects of health care for all populations, including men.
Priority Areas
Enhancing the response of the health system to men's specific needs.
Understanding gender differences.
Understanding and eliminating disparities in health care.
Empowering men to make better health care decisions.
Consumer Materials / Clinical Information / Additional Resources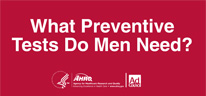 Consumer Materials
Healthy Men
The single most important way you can take care of yourself and those you love is to actively take part in your health care. This site will help you get started on how to educate yourself on health care and participate in decisions with your doctor—even if it means wearing an examination gown.
Go to: http://www.ahrq.gov/healthymen/
Men: Stay Healthy at Any Age
This checklist for your next checkup discusses screening tests, preventive medications, and healthy behaviors to follow.
For English, go to: http://www.ahrq.gov/ppip/healthymen.htm

Also available en español; go to: http://www.ahrq.gov/ppip/healthymensp.htm
Understanding Your Body
This resource provides brief explanations of different body systems and ailments, including "What is Your Prostate."
Go to: http://www.ahrq.gov/consumer/bodysys/edbody1.htm
Treating Tobacco Use and Dependence
This one-stop source for information on treatments and counseling can help smokers become tobacco-free. Materials are provided in English, Spanish, and easy-to-read formats.
Go to: http://www.ahrq.gov/path/tobacco.htm
Clinical Information
Electronic Preventive Services Selector (ePSS)
A PDA application and Web guide that allows clinicians to search for U.S. Preventive Services Task Force recommendations by a patient's age, gender, and pregnancy status.
Go to: http://pda.ahrq.gov and select the Electronic Preventive Services Selector (ePSS).
Health Promotion
Recommendations on clinical preventive services and implementation tools for clinical practice including men's health concerns.
Go to: http://www.preventiveservices.ahrq.gov
Evidence-based Clinical Practice
Syntheses of scientific evidence on clinical effectiveness, behavior, and methods that address health topics including some specific to men.
Go to: http://www.ahrq.gov/clinic/epcix.htm
Men's Health Browse
A summary of information products and research findings specific to men's health interests.
Go to: http://www.ahrq.gov/browse/menix.htm
Additional Resources
HHS Specific Populations: Men
HHS has produced a page containing links to various government sources for information on men's health.
Go to: http://www.hhs.gov/specificpopulations/