---
Can Facebook Prolong Post-Breakup Pain?
Those who 'stalk' their ex electronically show more longing, less personal growth, study says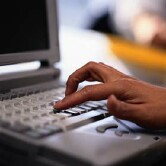 TUESDAY, Sept. 25 (HealthDay News) -- Although Facebook can help loving couples feel connected 24/7, there's a downside to all that connectedness when the relationship sours, a new study contends.
Using Facebook to track an ex may seriously impede the brokenhearted's ability to heal and move on, said study author Tara Marshall, of the psychology department at Brunel University's School of Social Sciences in Uxbridge, England.
"People who engaged in Facebook surveillance of their ex-partner, [meaning] people who more frequently looked at their ex-partner's Facebook page and friends list, reported delayed emotional recovery after a breakup compared to people who engaged in less surveillance," Marshall said.
"They reported greater current distress over the breakup, more negative feelings toward the ex-partner, such as jealousy and hostility, more sexual desire and longing for the ex-partner, and less personal growth," she said.
Facebook, the world's biggest social-networking site, has more than 900 million users, Marshall noted. Prior research has indicated that one-third of them use the site to monitor the activities of ex-partners.
Such continued "friendship" enables former lovers to keep tabs on each other via status updates, wall posts and photos. And depending on an individual's privacy settings, even an "unfriended" ex may be able to glean information from public posts and the pages of mutual friends.
For the study, published online Sept. 4 in the journal Cyberpsychology, Behavior and Social Networking, Marshall enlisted more than 450 Facebook users to complete an online survey designed to assess their emotional state and Facebook usage patterns post-breakup.
Most were woman, and 87 percent were American. Nearly two-thirds were in college, and one-third had completed high school. Although nearly half were single when surveyed, all had experienced at least one breakup with a romantic partner who also had a Facebook account at the time.
Based on their responses, Marshall determined that engaging in Facebook surveillance of an ex seemed to delay the rejected person's emotional growth and recovery in ways that offline contact didn't.
In sum, the greater the Facebook spying, the greater the heartbreak, she said.
But other experts aren't convinced of that.
Eli Finkel, associate professor of social psychology at Northwestern University in Evanston, Ill., said these findings shouldn't drive anyone to hit the "delete" button just yet.
"The author wants to say that jumping on Facebook makes a person fresh from a breakup more distressed, but this research really doesn't prove that," he said. "What seems more plausible to me is that people who are already especially distressed by a breakup might become obsessive and stalker-ish, and therefore go and try to find out about their ex partner on Facebook."
"Or it may be that it becomes a vicious cycle, with distress first driving an ex to Facebook, and then what they find on Facebook makes them more distressed," Finkel added.
It's possible that what Facebook has done is not change the motivation to stalk an ex "but facilitated the ease with which we can do so," he said. "But really, there's nothing in this work that proves or disproves any of that."
Jeffrey Hall, assistant professor of communications at the University of Kansas, in Lawrence, agrees.
"I don't think this study establishes that logging on to Facebook is a more problematic interpersonal process than what people often did before Facebook when they were in post-breakup distress, which was to seek out information from friends and friends of friends," he said.
"While Facebook might be a unique mechanism for surveilling somebody, this doesn't show that our motivations to go there for information are Facebook-specific, or that once there, you become more distressed than you already were," Hall said.
More information
For more on social networking, visit the Harvard Business School

.