Free DHS Certified Training
Welcome to the Rural Domestic Preparedness Consortium. We provide training and resources for emergency first responders, with an emphasis on rural areas. The RDPC has developed its courses to address situations where big city resources may not be available. Best of all, all of our training is certified by the US Department of Homeland Security and provided at no cost.
News & Resources
Dedicated first responders know how crucial it is to stay aware of the latest tools and information. To help meet this need the RDPC maintains a library of resources and tools related to homeland security and emergency response. As well as reading material, our library contains video, software, and other resources.
New Videos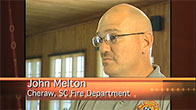 First responders share their opinions on the RDPC training they received.
See more in the video section.
RDPC Overview Video
Watch the RDPC overview video to find out what the RDPC is all about.