CDC's National Breast and Cervical Cancer Early Detection Program (NBCCEDP) provides access to breast and cervical cancer screening services to underserved women in all 50 states, the District of Columbia, 5 U.S. territories, and 12 tribes.
Features

Partnership Development Toolkit
The toolkit helps NBCCEDP grant recipients maintain, grow, and develop new partnerships with many types of organizations.

20 Years of Screening Women and Saving Lives
For 20 years, NBCCEDP has provided free or low-cost mammograms and Pap tests.

NBCCEDP Screening Program Data
Results from the NBCCEDP, representing breast and cervical cancer screening services provided to program-eligible women, are reported.
Find a Screening Provider
The NBCCEDP provides screenings and diagnostic services to low-income, uninsured, and underinsured women.
NBCCEDP's 20th Anniversary Video
You need the Flash plugin to view this video.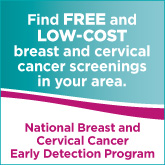 Contact Us:
Centers for Disease Control and Prevention
Division of Cancer Prevention and Control
4770 Buford Hwy NE
MS K-64
Atlanta, GA 30341
800-CDC-INFO
(800-232-4636)
TTY: (888) 232-6348