National Records Management Training Program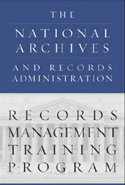 NARA's Records Management Training Program provides training for Federal employees and contractors on a variety of records management topics, from records scheduling to emergency preparedness as it applies to records management. Training is delivered at NARA regional facilities, NARA Washington, DC, area facilities, and other locations across the country. NARA's national training program includes courses in six "Areas of Knowledge" that are relevant to anyone responsible for managing Federal records and comprise NARA's Certificate in Federal Records Management Training Program. Other courses in the national curriculum include Basic Records Operations, Electronic Records Management, and three half-day courses targeting program managers, legal counsel, and information technology professionals. In addition, some training locations offer focused records management workshops of particular need in their regions.
For specific information on classes, as well as class schedules, please consult NARA's Learning Management System (LMS).
RACO Conferences
RACO 2012: "Developing a 21st Century Framework for Records Management "
Past RACO Conferences
Other Training Information
* Please see our Privacy Statement