IT'S BACK-TO-SCHOOL TIME!

As Teens Consume More Entertainment & Media Parents Can Break Through with "Time To Talk"

Going back to school signifies a time of exciting, new beginnings. But it can also be a challenging time, with added peer pressure when it comes to drug and alcohol use.

Add into the mix new research showing that many teens are consuming up to eight hours of entertainment media and technology daily – up to 53 hours a week – it's prime time for parents to break through the media noise and make their voices heard.

Did you know that: (1) Parents have tremendous influence on teens' decisions to not drink and use drugs. (2) You can educate yourself about the dangers of teen substance abuse and communicate those risks to your kids through frequent conversations. (3) As your teens prepare to go back to school, you can help them make the grade by letting them know you're there to help them handle new, challenging situations.

Harness the power of media and technology to reach your kids – Take Time to Text your teens today!




IT'S SUMMER!

At the Batting Cages or at the Ballpark, Parents Can Score Another Time To Talk

The Partnership for a Drug-Free America and the Major League Baseball Players Association (MLB-PA) have introduced a new online campaign, Healthy Competition, offering parents and caregivers unique insight from Major League Baseball players on raising young athletes. Coupled with the Partnership's prevention tools and resources at TimeToTalk.org, Healthy Competition gives parents pro-active guidance on raising a well-balanced and drug-free athlete. Check out video featuring Major League Baseball players and dads Torii Hunter, Jamie Moyer, Mike Sweeney, Mark Teixeira and Mike Young, and strength and conditioning trainer, Tim Maxey, as they share advice on exercise, good nutrition and fitness and their perspectives on what families can do to deal with life's challenges and pressures.




Studies show that adolescents who haven't tried drugs or alcohol are more likely to start during times of transition in order to cope with stress. But don't worry - while change is a part of life, risky behavior, like drug and alcohol use, doesn't have to be. This guide has everything you need to know to help keep your child healthy - and even happy! - during transition periods.

Download the Guide (PDF)

As a parent, the things you say and do have a tremendous influence on the decisions your child makes

- especially when it comes to using drugs or alcohol. Research shows that kids who learn a lot about the risks of drugs from their parents are up to 50% less likely to use. By talking to your kids about drugs and alcohol, you can help them make better choices and live safer, healthier lives.

Starting the conversation with your kids and keeping communication open is never easy -- but it's also not as difficult as you may think. Whether you're having trouble finding the time or finding the right words, Time to Talk is here to provide the support and resources you need when it's time to talk to your kids about drugs and alcohol.
Grandparents
Grandparents are an important family resource in helping today's youth avoid the pitfalls of drug and alcohol use and they play a vital role in the lives of their grandchildren. Since roughly half of all grandparents say they want more information on how to help prevent their grandchild from using drugs and alcohol, we've created a free-downloadable guide called
"Grandparents Hold a Key to Keeping Kids Drug Free."

Download the guide
Take "Time To Text"
Your Teens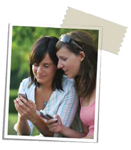 For many teens, text messaging is a primary form of communication. It's a quick, easy way for them to make plans and instantly stay in touch.

Texting can help parents open new lines of communication and it's a non-confrontational way to start conversations with their kids about sensitive topics, like drug use and drinking.

That's why we've created a free, downloadable guide called "Time To Text" This easy-to-use tool offers tips on how to text, provides sample messages to send to teens and features a cheat sheet parents can keep in their wallet.



Download the guide