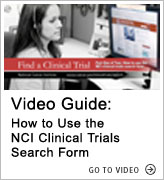 Introduction
The National Cancer Institute's (NCI's) list of cancer clinical trials contains more than 8,000 active clinical trials (accepting participants) and more than 19,000 closed trials. These pages explain how to search for trials and review the results of your searches.
It is helpful to gather as much information as possible before a search. Information such as the specific type and stage of cancer, the type of trial that might be relevant (treatment, diagnostic, supportive care), and other details about the patient will be helpful. Speak with a health care provider to gather this information and make sure you review the information that you find with the health care provider.
Important Points
In general, the more criteria you specify, the fewer clinical trials your search will retrieve. For a simple search, you can choose a Cancer Type, Stage/Subtype of Cancer, Location of Trial, and/or Type of Trial.
To focus your search, you can specify more detailed information about the trials you wish to view or even search by a clinical trial identification number. The following pages describe each search option on the form, the various ways that you can display and sort your search results, and the information shown for each clinical trial in your search results.
Skip any items on the form that you don't know or that don't apply to you. The default value for every search option is "All."
Some features on this search form use JavaScript. If it is turned off in your computer's browser, these features will not work. The search options that use JavaScript are:

Hospital/Institution selection
Drug selection
Treatment/Intervention selection
Trial Investigator selection
Lead Organization selection
If you have questions while working with the search form, you can call 1-800-4-CANCER for help from an NCI cancer information specialist. You can also contact LiveHelp, NCI's online chat service, for help. The last section of this Help document has more details about LiveHelp and our phone service.