Diabetes and the Recovery Act
Diabetes in America
26 million people in the United States have diabetes
Another 79 million at increased risk for diabetes
7th  leading cause of death in the United States
$174 billion in direct and indirect costs of diabetes (2007)
Diabetes is a major cause of heart disease and stroke, as well as the leading cause of kidney failure, non-traumatic lower limb amputations, and new cases of adult blindness. Increases in rates of type 2 diabetes and in obesity among the nation's children, a precursor to diabetes later in life, have important economic and health ramifications for the nation. Treatment, lifestyle education, and research can go a long way to address this deadly disease.
For more information about diabetes:
Diabetes affects nearly 26 million people in the United States, while another 79 million are estimated to be at increased risk for diabetes, according to the Centers for Disease Control and Prevention.
The U.S. Department of Health and Human Services (HHS) has provided more than $500 million under the Recovery Act for programs across the Department to increase research into the causes and treatments of diabetes, invest in health information technology that can lead to better and more efficient care, support prevention and wellness strategies, and increase access to health care.
Learn more about diabetes and see highlights* about the impact of HHS programs on this deadly disease:
NIH awarded $274 million in Recovery Act funds for research to help scientists better understand and predict the progression of diabetes, as well as treat diabetes-associated conditions. NIH also awarded another $10.8 million in grants for diabetes-related comparative effectiveness research (CER). Some of the groundbreaking research includes:
The Recovery Act provides $1.1 billion for research that compares the effectiveness of different medical treatments. The intent is to provide evidence-based information to inform health care decision-making by patients, clinicians, and the clinical and public health communities. AHRQ is spearheading the initiative, which includes NIH and the Office of the Secretary (OS). AHRQ is overseeing $11.2 million for diabetes-related comparative effectiveness research, of which $6.1 million is funded by the Office of the Secretary. The following are highlights of on-going diabetes-related CER. Search for research...
A University of California, Los Angeles, project compares the effectiveness of two primary care redesign strategies increasingly used by community clinics and health centers to improve the quality of care for patients with diabetes and other chronic illnesses. Eighteen health centers serving 9,900 patients with diabetes across Santa Clara, Los Angeles, and San Diego counties in California will test one of the strategies in their primary care practice or serve as a control clinic.  Read more…

The Kaiser Foundation Research Institute is comparing the effectiveness of diabetes prevention strategies in women with gestational diabetes. Type 2 diabetes develops within five years after delivery in 50 percent of women with gestational diabetes. The study will include 2,400 pregnant women at 44 medical centers of Kaiser Permanente Northern California. Read more…

The Maine State Department of Health and Human Services is studying the impact of mental illness and substance abuse on diabetes intervention and outcomes. Read more…
CDC provided nearly $229.7 million in Recovery Act funds for a major Prevention and Wellness program, Communities Putting Prevention to Work (CPPW), to help 25 communities develop evidence-based programs aimed at lack of physical activity and poor nutrition, two risk behaviors that lead to obesity, a major contributor to diabetes. About $75 million was also awarded to States for programs targeting obesity and tobacco use.
"Many of the environments in which we live promote physical inactivity and increased consumption of less healthy food. We need intensive and sustainable efforts that can reach large numbers of people in multiple settings – such as child care facilities, workplaces, schools, communities and health care facilities – to help people make healthier choices," said Dr. William H. Dietz, director of the Division of Nutrition, Physical Activity and Obesity of CDC's National Center for Chronic Disease Prevention and Health Promotion.
"The evidence-based changes being implemented in CPPW communities, states and territories are designed to make healthy choices available, affordable and easy, and will support Americans who want to make healthy lifestyle changes," he said. Read more…
Some of the programs include: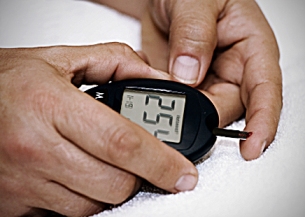 Monitoring blood glucose level is an important step in a diabetic person's management of his condition. Diabetes affects nearly 26 million people in the United States, while another 79 million are estimated to be at increased risk for diabetes.
Nearly 27 percent of Americans aged 65 and older have diabetes and almost half have prediabetes, according to the CDC. In collaboration with CDC's CPPW program, AoA awarded $27 million in grants to States for Chronic Disease Self-Management Programs (CDSMP) and Diabetes Self-Management Programs (DSMP), which are designed to help older adults learn how to cope with chronic diseases, partly by increasing physical activity, improving nutrition and communicating more effectively with their health care providers.  Read more…
As of June 1, 2011, more than 36,200 people have participated in the CDSMP workshops for diabetes, arthritis and pain self-management. More than 3,700 seniors participated in more targeted six-week DSMP workshops.  Examples of some of the state programs include:
Delaware has established programs for older adults at faith-based organizations, health care organizations, residential facilities, senior centers, and even prisons. Delaware is also working with a Medicaid managed care facility to target seniors who are at particularly high risk for complications. In addition, the State is training medical professionals and people with diabetes to lead self-management programs.

New Jersey established a prison initiative, implementing DSMP workshops in all 13 state prisons; 18 such workshops were conducted from August 2010 to June 2011. The workshops are promoted by the prisons' health care teams, and the doctors who see inmates with diabetes every three months encourage them to sign up for the workshops. A side benefit appears to be that the inmates now feel a sense of control over an aspect of their lives. There are currently waiting lists for the workshops.
Health information technology (IT) makes it possible for health care providers to better manage patient care through secure use and sharing of health information with electronic health records (EHR). Tracking and coordinating a patient's care is of particular importance to people with diabetes, who often need a variety of health care providers: They might see a primary care doctor for overall management of the disease, an ophthalmologist for eye care, and a podiatrist for necessary foot care. The Office of the National Coordinator for Health Information Technology (ONC) funds 17 Beacon Communities, pilot projects in which communities use health IT to improve care and reduce costs. Almost all are focused, at least in part, on using health IT to improve care for diabetic patients. The following are examples of Beacon Communities' activities related to diabetes:
Beacon Community of the Inland Northwest (Spokane WA). This Beacon, which represents rural and traditionally medically underserved populations, is expanding the Inland Northwest Health Services health information network that connects hospitals and health care facilities. The Beacon hopes that connecting more and a greater variety of clinicians with each other and with new disease management and electronic clinical decision support tools will help them better coordinate care and provide preventive health care services for their diabetic patients. Read more…

Southeastern Michigan Beacon Community (Detroit MI.). This Beacon is particularly concerned about the prevalence and burden of diabetes among under-served populations. The Beacon is leveraging new and existing technologies to eliminate fragmentation of care by integrating health IT, onsite coaching and engagement of ethnic, community and faith-based organizations. This allows providers to reconcile patients' medications to avoid duplication and ensure safety and to coordinate patient care after hospitalizations. Read more…

Central Indiana Beacon Community (Indianapolis IN). The Indiana project, led by the Indiana Health Information Exchange, includes multiple chronic conditions but focuses particularly on diabetes. The exchange sends secure health information, such as lab results, medications and treatment histories, to doctors, hospitals and other care providers. In collaboration with private health insurers, the exchange has built a preventive health and chronic disease management program that provides timely data reports to providers to help them track patients and alert them when they are due for screenings and follow-up care. Read more…
The Health Resources and Services Administration (HRSA) awarded $338 million in Recovery Act grants to help more than 1,100 Community Health Centers meet the increased demand for patient services during the economic downturn. Here's how some centers indicated their stimulus dollars are helping diabetic patients:
Carolina Health Centers Inc., Greenwood SC, hired a certified diabetes educator and developed a best practice certified diabetes education program. This new resource provides treatment plans education and support necessary to follow and implement healthy lifestyle changes. As of April 2011, the diabetes educator has served more than 700 patients and had more than 1,400 patient education encounters.

Innis Community Health Center Inc., Innis LA, added a diabetes nurse educator, who works with the integrated team of primary care, dental and behavioral health providers to ensure improvement in the health of existing and new diabetic patients.

Southbridge Medical Advisory Council Inc., Wilmington DE, hired a physician whose focus is to improve the management of patients with chronic disease, particularly diabetes and heart disease.

Southeast Missouri Health Network Inc., New Madrid MO, was able to hire four new nurses and a new lab technician, allowing the center to educate the nearly 1,500 diabetic patients in its registry on the importance of medication and diet compliance, setting reasonable self-management goals and checking blood sugars.
HRSA and Health Care Personnel
HRSA provided Recovery Act funds to the National Health Service Corps (NHSC) for loan repayment assistance to primary care health providers working in underserved communities across the country. While NHSC clinicians do not specialize, they may focus on a particular disease or condition due to the needs of the communities in which they serve and their own experience. Some, like Rita Meadows, a nurse practitioner who is a participant in the NHSC loan repayment program, have a special interest in treating and preventing diabetes.
Meadows arrived at her NHSC practice site in southern Delaware with a passion for diabetes management because her daughter is a type 1 diabetic. With support from her supervising physician, Meadows conducts group and individual weight management sessions for pre-diabetic and obese patients.  One of her many successes is a 9-year old girl who went from being obese, having high cholesterol levels, and being pre-diabetic in 2009, to being a very healthy 11-year-old today.
Back to Recovery Home
---
*Projects cited in this report are examples of Recovery Act programs dealing with diabetes, not a comprehensive listing of Recovery Act-funded projects.