A Flurry of We Can!®–Related Events Closes Out 2010 with a Bang
Posted January 12, 2011

Science and Engineering Fair
Combustion—it's something you learn about in science class. But this October, parents and children visiting the Science and Engineering Fair on the National Mall (Washington, D.C.) learned about more than chemical compounds and combinations: they learned that a mix of eating right, moving more, and spending less time in front of the TV can help keep your waistline in check. This is an important lesson at all times of the year, but especially during and after high-calorie holidays.
These We Can! core messages—and corresponding strategies and tools—were brought to the attention of thousands of visitors to fair by We Can! program staffers at the National Heart, Lung, and Blood Institute's (NHLBI) booth.
"Parent and kids really got into our Go, Slow, Whoa food and sugar-sweetened beverage activities. Many of them were surprised to find out how much sugar was really in some of their favorite drinks," said Melissa McGowan, MHS, CHES, and Public Health Advisor from the NHLBI of the National Institutes of Health.
Unity Health Care
Food—or rather the unveiling of a new NHLBI family cookbook—was the focus of an event at the Unity Health Care Upper Cardozo Health Clinic, a We Can! community site since April 2008, in the predominantly Latino Columbia Heights neighborhood of Washington, D.C.
As you may know, the Latino community is a high-risk group for obesity and related health problems such as diabetes. Because the clinic serves predominantly Spanish-speaking patients, it was seeking ways to adapt its We Can! program to speak to its community in a language that they would understand, both literally and figuratively.
That's why on Saturday, October 23, Unity Health Care invited its patients and their families to come learn about improved nutrition, offering them a sample of two NHLBI recipes in Spanish and then having Chef David Kamen (the author of the new cookbook, and an instructor at the Culinary Institute of America) demonstrate how they are made and hand out pre-prepared samples so that attendees could taste them.
That was just one aspect of the event—in another room of the clinic, the We Can! team worked with clinic staff to show children and parents how to get active.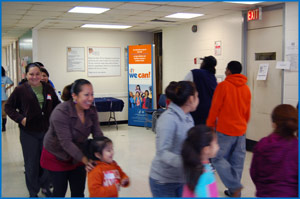 "We were doing jumping jacks—even the parents joined in!" said Janet M. de Jesus, MS, RD, and Nutrition Education Specialist at the NHLBI. "The crowd was so enthusiastic that some of the children actually got winded."
You can order your own copy of the cookbook, and also check out our other Spanish language materials on the We Can! Web site.
SPARK™
Last but not least, as you may have read a couple of eNewsletters ago, SPARK™ (a research-based physical activity program) became a We Can! partner in March 2010. In September, SPARK asked We Can! staff to discuss the research supporting involvement of parents in preventing childhood obesity, in the context of We Can!, on one of SPARK's webinars. All of the SPARK webinars are free and open to the public, and past webinars (including the September webinar on We Can! and parent involvement) are archived here: http://www.sparkpe.org/physical-education-resources/webinars/. In addition, SPARK materials are available at a discount for We Can! community sites through School Specialty.
If you are interested in running SPARK, you may wish to consider the Physical Education (K–12) or After School (ages 5–14) programs that dovetail with the We Can! target age range of 8–13.
Read more about our partnership with SPARK, or visit www.sparkpe.org/resources for resources, and light a spark for increased physical activity in 2011 by relying on both programs!