Document Actions
Training Innovation Division (TID)
Up one level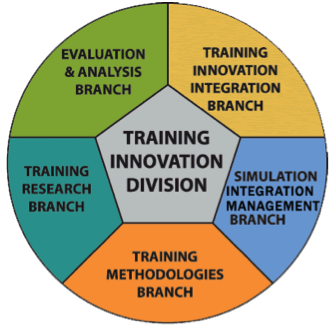 The FLETC vision is to provide fast, flexible, and focused training to secure and protect America. While training large numbers of students under strict time constraints, it is important that we continue to maintain a safe environment and a system that promotes instructor/student morale by providing access to the most advanced teaching facilities, techniques, and technologies available. To meet this goal, the Training Innovation Division was created to provide the FLETC with cutting edge digital law enforcement training products and effectively integrate simulation into the curriculum for an optimal blending of instructional methodologies.
Webster's defines innovation as: the introduction of something new - something that deviates from established doctrine practice. Google identifies innovation as the conversion of knowledge and ideas into a benefit, the benefit may be new or improved products, processes, or services.
The TID views innovation as the introduction of something new that improves training, training products, training delivery or training effectiveness. Innovative approaches typically require rigorous research to both examine and establish the framework and/or boundaries for applying and incorporating these new approaches, methodologies, and technologies into the FLETC training environment. The dedicated staff of the TID ensures a focus on innovation and innovative methods for the instructional staff that will carry the FLETC forward in meeting its training mission.
Mission
The mission of the Training Innovation Division (TID), Office of Training Management (OTM), is to identify and channel new instructional methods and technologies into the FLETC curricula. The ever-increasing demand for high quality training coupled with limited time to accomplish the training requirements dictated the need to create a new division solely devoted to developing innovative training solutions that were fast, focused, and flexible.
Vision
The TID stands ready to provide training tools to more efficiently and effectively accomplish training tasks. The utilization of technology and applied research enables FLETC instructors to use a proven combination of training methodologies to train those who protect our homeland. Technology allows trainers to increase decision-making opportunities for students without extending the length of the training program. The ever-changing demands placed on law enforcement officers require that all law enforcement training institutions routinely challenge the cognitive skills of the student for split-second decisions on "officer reasonableness" and "totality of circumstances." Technology integration not only increases the learning opportunities for the student, but also the instructional capabilities of the instructor. It provides a forum for the fast delivery of additional skill building practices that emphasize specific critical skills without the commensurate requirement for facilities or the inherent risk of that skill. It allows wide flexibility in delivery with options for multiple participants and interactive scenarios. It also ensures continuity of feedback for the student that reinforces instructional content and the after-action review ensures the feedback is focused on the critical tasks of the exercise. Technology and applied research on delivery methods enables FLETC trainers to be fast, focused, and flexible in training delivery.
Contact Information
Main Number: (912) 267-3364
Fax Number: (912) 267-2861
Training Innovation Division
Federal Law Enforcement Training Center
1131 Chapel Crossing Road
Glynco, GA 31525
Division Chief
(912) 267-3089
FLETC-TRAININGINNOVATION@DHS.GOV
Branch Chief
Evaluation and Analysis Branch (EAB)
(912) 267-2255
FLETC-TRAININGINNOVATION@DHS.GOV
Branch Chief
Simulation Integration Management Branch
(912) 267-2569
FLETC-TRAININGINNOVATION@DHS.GOV
Branch Chief
Training Innovation Integration Branch
(912) 267-2591
FLETC-TRAININGINNOVATION@DHS.GOV
Branch Chief
Training Methodologies Branch
(912) 280-5482
FLETC-TRAININGINNOVATION@DHS.GOV
Branch Chief
Training Research Branch
(912) 267-2255
FLETC-TRAININGINNOVATION@DHS.GOV
General Information
Training Programs
This page contains links to some PDF files, you will need Adobe Acrobat Reader to view these files.