March 27, 2012
Yesterday, we featured the FTC's newly released privacy report, which outlines a framework for protecting privacy in the 21st Century. Among other recommendations, the report strongly supports Do Not Track, a mechanism that would allow you to choose what information is collected about your online activities and how it's used.
To help illustrate the key characteristics of an effective Do Not Track mechanism, FTC staff developed a new infographic.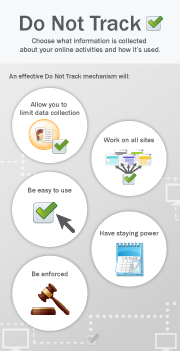 An effective Do Not Track mechanism would:
allow you to limit data collection; you'll be able to choose whether websites can collect data about your browsing habits and send you targeted ads.
work on all sites; you won't have to opt-out of tracking repeatedly on different sites.
be easy to use; you will be able to find and use the opt-out mechanism quickly and easily.
have staying power; your choice won't be erased when you update your browser or delete cookies.
be enforced; there will be consequences for websites that don't honor your choice.