All Cookies Are Not Created Equal
November 8, 2011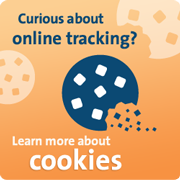 Today, the FTC announced a settlement with ScanScout, a video ad network that uses cookies to track people's online browsing and deliver targeted ads to them. This is the first FTC settlement addressing a company's use of flash cookies to track people's online behavior.
A cookie is information saved by your web browser that can be used to customize your browsing experience and deliver targeted ads. Cookies also can be used to track your behavior across sites. The FTC requires companies to be accurate when they describe how they will collect and use consumer information, including browsing history. Companies must also respect people's privacy choices, like opting out of online tracking.
ScanScout told people that they used cookies to collect browsing data and explained that users could opt out by changing their browser settings to delete or block cookies. The problem, according to the FTC's complaint, is that for a two-year period ScanScout actually used a type of local shared object known as "Flash cookies." In some ways, cookies and Flash cookies are similar: They both can be used to track a person's browsing habits to serve up targeted ads. But there are important differences, too. In this case, ScanScout's Flash cookies couldn't be controlled by changing your browser settings.
So, when people followed the instructions they got from ScanScout and changed their browsers' privacy settings to delete or block cookies, ScanScout's Flash cookies were unaffected. ScanScout could still collect browsing data and serve targeted ads to people who thought they'd opted out. That, said the FTC, made ScanScout's claims false and misleading.
To learn more about different types of cookies and other tracking technology, read OnGuardOnline.gov's new Q&A about cookies.