---
D
URING
the past month, new information and activities have been added to the United States Mint H.I.P. Pocket Change™ Web site. To help you learn "What's New for You," we've listed and linked these features below.
Columbus Day
You and your class can celebrate the landing of Christopher Columbus in the New World by visiting our Columbus Day page. Show American coins that have honored Columbus and explorers like him and see how the United States Mint took part in the World's Columbian Exposition in 1893.
Happy Halloween!
Invite your students to visit our Halloween page for some haunting Halloween coin lore. Then take the Costume Quiz to help the H.I.P. Pocket Change Pals get dressed up for Halloween.
Making Cents
The fall issue of Making Cents, the "quarterly" e-newsletter, has arrived! Invite your students to see what's new for the fall and solve the word puzzle based on the newsletter's contents.
October Milestones
Thomas Edison successfully demonstrated his electric lightbulb on October 19, 1879. Have your students experiment with the "Inventor's Challenge" game.
"The Star-Spangled Banner" was first sung in public on October 19, 1814. Students will have fun solving the Star-Spangled Word Jumble! (PDF, 212k)
Coin of the Month
Introduce your students to Benjamin Harrison, our 23rd President, with the October Coin of the Month.
Join the Network
The Teachers' Network is a great way to keep in touch with new features and resources as they arrive on the site. Join today!
October 2012

Teacher Feature
Related to: October Coin of the Month
Curricular Areas: Social Studies, Language Arts
Click the title and check it out.
---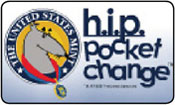 ---
Thanks again for your interest in the Teachers' Network. If you find this information useful, please share it with a friend by e-mail!