Blog posts
Saying "hello" in my first blog post for Data.gov. I'm David E. McClure, Jr., J.D. (not to be confused with GSA Associate Administrator, David L. McClure, Ph.D.) on detail to Data.gov from the NOAA OCIO and couldn't be prouder to be a member of the Data.gov team and leading the newly revitalized metadata working group.
Aloha!
This will be my final blog entry as Program Executive for Data.gov, as I am departing to become the Chief Information Officer for the State of Hawaii. There, Governor Abercrombie and I will work together to bring Hawaii's data forward and look at ways to continue to collaborate with this team and with all of you. In Hawaiian, "Aloha" means many things, including "Hello," "Goodbye," and "Good luck," so as I depart for the Islands, I wish all of you a fond farewell and the best of luck in the future.
The Year of Outreach and Accessibility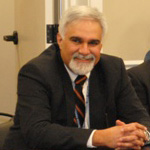 The last few weeks have been extraordinarily busy at Data.gov, and in the next few weeks – and throughout the year – you will see the results of these efforts.

As Data.gov puts the data to work, we have been deeply mindful of the hard economic times that have engulfed our nation. Free public data offers opportunities for innovation, education, and entrepreneurship, and we are working to make the data as accessible as possible to support Americans now and in the future. For Data.gov, this will be the Year of Outreach and Accessibility.
Popular blogs
Posted on
11/17/2010
by
Sanjeev "Sonny" Bhagowalia
Posted on
3/18/2011
by
Sanjeev "Sonny" Bhagowalia
Posted on
5/2/2012
by
Chris Musialek
Posted on
12/15/2010
by
Sanjeev "Sonny" Bhagowalia
Posted on
4/17/2012
by
George Thomas
Archives