Success Stories: SmartScan
Federal Student Aid (FSA), an office within the U.S. Department of Education (DoED), has the responsibility for retrieving archived Promissory Notes (or "p-notes") signed by post-secondary education students participating in the William D. Ford Federal Direct Student Loan Program. Mr. Wood Mason is the FSA Liaison to the Department's Common Origination and Disbursement (COD) processing system's School Relations Center (SRC) in Niagara Falls, NY. This office acts as the customer service branch for COD, and is where borrowers send their request for copies of their p-notes. "In most cases, borrowers want their p-notes to prove obligation to an employer or the Military to facilitate payoff of their Direct Loan," said Mason. "So it is crucial that we deliver these documents in a timely manner."

The process for retrieving these p-notes from the Atlanta Federal Records Center (FRC) had become cumbersome and expensive for DoEd. Mason and two other FSA staff spent several days a month at the Atlanta FRC researching, pulling, and copying the p-notes. Then they would bring them back to their office, copy them again, FedEx one copy to their Montgomery, AL office for scanning and input to the DoEd system, and send the other copy to the School Relations Center in NY, where they would be processed and forwarded to the borrower.

When Atlanta FRC Director Fred Abrahamian told Mason about FRC's new SmartScan service, Mason jumped at the chance to try it out. Through this service, requested files are scanned at the FRC and e-mailed instantly in Portable Document Format (PDF) to the requesting agency. "This service has just been terrific for us," said Mason. "Now I just e-mail the request in a secure, password-protected Excel spreadsheet, and within 24 hours I have a PDF file of the p-note in my e-mail inbox that I can share instantly with my colleagues in Alabama and New York. The best part is that we can get the information to our ultimate customer, the borrower, often within 48-72 hours of their original request."

Abrahamian is delighted that SmartScan helps the FRC better serve agency customers like DoEd. "It was very rewarding for us," said Abrahamian. "When we launched the service, DoEd had a sizeable backlog of pending p-note requests. SmartScan allowed us to fully eliminate this backlog for them. And we were able to address DoEd concerns about security as well, since we securely encrypt the outgoing PDF files to ensure that none of the personal data gets into the wrong hands."

"SmartScan has been a real 'win-win' for us," said Mason. "We save money, process the p-note requests quickly and securely, and my colleagues and I can remain on task with our other duties. I am totally sold on this service."
To learn more about SmartScan, visit our SmartScan web page. Or contact your local FRC Director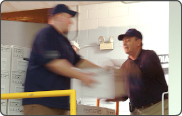 What our Customers Say about SmartScan
"SmartScan has been a real 'win-win' for us."
— Wood Mason, DOE