2010 Training Success: Over 700 People Prepped to Spread the We Can!® Word
Posted January 12, 2011

More than 700 participants attended 2010 We Can! regional trainings to learn the inside scoop on delivering the program most effectively.
2010's nine trainings were funded in part by We Can! partner SUBWAY® restaurants, and took place nationwide over the course of 12 months.
And when we say nationwide, we mean it.
The eighth training was held in Anchorage, Alaska, and was actually a first of sorts. It was the first We Can! training to be held in the nation's largest and most northern state, and was organized by the Alaska Native Health Consortium.
"We decided to host a We Can! training because there is a diabetes problem in our community, much of it tied to obesity" said Denise Ramp, MSN, CNM, NP-C , and Diabetes Program Community Educator at the Alaska Native Health Consortium, who served as the training coordinator. "Not only did our 91 participants praise the training as 'fun and interactive,' they were greatly appreciative of the series of networking breaks that we built in so they could exchange ideas."
And that's not all. Ramp wrote an op-ed about We Can! that ran in six Alaska newspapers, boosting local awareness of the event. In fact, two new Alaska sites signed up as a result of the training, bringing the total number of sites in Alaska to seven.
One month later and more than 3,000 miles further east, We Can! held its last training event of 2010 in Warwick, Rhode Island. Known as the site where the first shot of the American Revolution was fired (against the British schooner Gaspee), Warwick fired up local educators, urging them to attend the November 2010 training.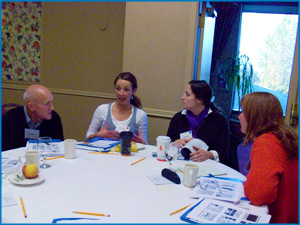 And it worked. Organizers' efforts drew a great number of professionals affiliated with Rhode Island's public schools: 24 of the 88 attendees were from the public-education arena.
Due to the excitement around this informative program, "We will be hosting a SPARK™ PE training in the spring and providing implementation grants to all the organizations that participated in the We Can! training this past November," said training organizer Katy Heneghan, Communications Specialist for Healthy Places by Design Initiative for a Healthy Weight at the Rhode Island Department of Health.