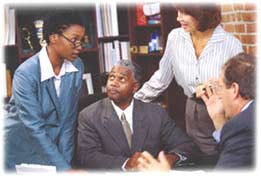 One of your first considerations in deciding to do business with the Federal Bureau of Prisons (BOP) is to determine how the Federal acquisition process works and how to participate in it. BOP acquisitions are governed by statutes and regulations set out in the Federal Acquisition Regulation (FAR), Justice Acquisition Regulations (JAR), and the Bureau's Acquisition Policy (BPAP). The acquisition process is the system by which a Federal agency obtains the supplies and services it needs to meet its mission.
The FAR Part 2 defines acquisition as:
The acquiring by contract with appropriated funds of supplies or services (including construction) by and for the use of the Federal Government through purchase or lease, whether the supplies or services are already in existence or must be created, developed, demonstrated, and evaluated. Acquisition begins at the point when agency needs are established and includes the description of requirements to satisfy agency needs, solicitation, and selection of sources, award of contracts, contract financing, contract performance, contract administration, and those technical and management functions directly related to the process of fulfilling agency needs by contract.
At the BOP, each facility is responsible for buying the necessary supplies, services, and equipment to operate the facility. If you have questions relating to contracts or solicitations at a particular site, please contact the Contracting Office noted in the contract or solicitation. To obtain information on BOP facilities, please use our Facility Locator.