Pioneer ACO Model
Overview
The Pioneer ACO Model is designed for health care organizations and providers that are already experienced in coordinating care for patients across care settings. It will allow these provider groups to move more rapidly from a shared savings payment model to a population-based payment model on a track consistent with, but separate from, the Medicare Shared Savings Program. And it is designed to work in coordination with private payers by aligning provider incentives, which will improve quality and health outcomes for patients across the ACO, and achieve cost savings for Medicare, employers and patients.
The Pioneer ACOs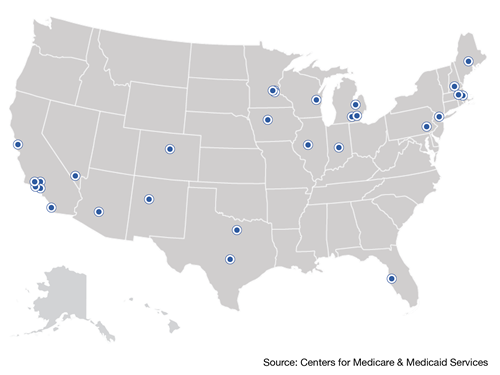 There are 32 ACOs participating in the Pioneer ACO Model.
Initiative Details
The payment models being tested in the first two years of the Pioneer ACO Model are a shared savings payment policy with generally higher levels of shared savings and risk for Pioneer ACOs than levels currently proposed in the Medicare Shared Savings Program. In year three of the program, participating ACOs that have shown a specified level of savings over the first two years will be eligible to move a substantial portion of their payments to a population-based model. These models of payments will also be flexible to accommodate the specific organizational and market conditions in which Pioneer ACOs work.
The Pioneer ACO Model includes strong patient protections to ensure that patients have access to and receive high quality care. To accomplish this goal, Pioneer ACOs will be expected to improve the health and experience of care for individuals, improve the health of populations, and reduce the rate of growth in health care spending. Participating ACOs will be held financially accountable for the care provided to their aligned beneficiaries. In addition, CMS will publicly report the performance of Pioneer ACOs on quality metrics, including patient experience ratings, on its website.
Additional Information