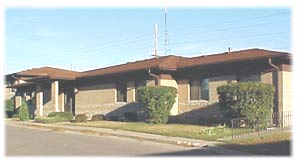 Residential Reentry Center
Community corrections is an integral component of the Bureau's correctional programs. Community corrections staff develop and administer contracts for community-based correctional programs and serve as the BOP's local liaison with the federal courts, the U.S. Marshals Service, state and local corrections, and a variety of community groups. Through the community corrections program, the BOP has developed agreements with state and local governments and contracts with privately operated facilities for the confinement of federally adjudicated juveniles and for the detention or secure confinement of some Federal inmates.
The BOP's community-based programs are administered by staff of the Correctional Programs Division (CPD) in Central Office (in Washington, DC), community corrections regional management teams in each of the BOP's six regional offices, and the employees of 22 community corrections management (CCM) field offices serving specific judicial districts within their regions.
For a list of CCM offices and their contact information, please use the Facility Locator tool.
The BOP contracts with residential reentry centers (RRCs), also known as halfway houses, to provide assistance to inmates who are nearing release. RRCs provide a safe, structured, supervised environment, as well as employment counseling, job placement, financial management assistance, and other programs and services. RRCs help inmates gradually rebuild their ties to the community and facilitate supervising ex-offenders' activities during this readjustment phase. An important component of the RRC program is transitional drug abuse treatment (TDAT) for inmates who have completed residential drug abuse program (RDAP) while confined in a BOP institution.
RRC Placement
Accountability. Pre-release inmates participating in release programming at an RRC remain in Federal custody while serving a sentence imposed by the U.S. District Court or DC Superior Court. Offenders under the supervision of U.S. Probation or the Court Services and Offender Supervision Agency (CSOSA) are housed as a condition of their supervision. Accordingly, RRC staff monitors an inmate's location and movement 24 hours/day. The contractor authorizes an inmate to leave the RRC through sign-out procedures for approved activities, such as seeking employment, working, counseling, visiting, or recreation. Staff continues to monitor inmates by visiting the approved locations (home or work) and/or making random phone contacts at different times during the day. Staff also administers random drug and alcohol tests for those inmates returning to the RRC from an approved activity and conducts random and scheduled in-house counts throughout the day.
Employment. Ordinarily, offenders are expected to be employed 40 hours/week within 15 calendar days after their arrival at the RRC. Staff is available at the RRC to assist inmates in obtaining employment through a network of local employers, employment job fairs, and training classes in resume writing, interview techniques, etc.
Housing. During their stay, offenders are required to pay a subsistence fee to help defray the cost of their confinement; this charge is 25 percent of their gross income, not to exceed the per diem rate for that contract. The contractor assists inmates in locating suitable housing (if necessary), to which they can release from the RRC. In cases where an inmate will be released with supervision, the contractor verifies the proposed address and forwards its comments to the U.S. Probation Office.
Substance Abuse Treatment/Counseling. RRCs offer drug testing and counseling for alcohol and drug-related problems. Contractors provide treatment and/or counseling based upon the offender's needs and substance abuse history. Counseling may be performed at the RRC with qualified staff, and/or treatment may be provided through a contract between the BOP's TDAT program and certified treatment providers.
Medical/Mental Health Treatment. Ordinarily, inmates are encouraged to assume responsibility for medical costs while residing in an RRC. Contractors usually maintain a network of social service agencies to assist inmates, if the need arises during transition. In an emergency and on a case-by-case basis, the contractor is responsible for obtaining the necessary treatment required to preserve the inmate's life. The BOP provides a 30-day supply of medication to cover the first 30 days of an inmate's stay at an RRC (under limited circumstances, more may be provided).
Related Document: Residential Reentry Directory (.pdf)
Home Detention
Some federal inmates are placed on home detention at the end of their prison term. Home detention is a generic term used to cover all circumstances under which an inmate is required to remain at home during non-working hours of the day. They serve this portion of their sentences at home under strict schedules and curfew requirements. Electronic monitoring equipment is sometimes used to monitor compliance with the program's conditions. This program provides an opportunity for inmates to assume increasing levels of responsibility, while at the same time providing sufficient restrictions to promote community safety and convey the sanctioning value of the sentence. Statutory provisions limit the length of home detention to the last six months or 10 percent of the sentence, whichever is less. Ordinarily, an inmate is placed in an RRC prior to placement on home detention.
FAQs: Residential Reentry Centers (RRCs) & Juveniles