The Federal Retirement Thrift Investment Board administers the Thrift Savings Plan (TSP), a tax-deferred defined contribution plan similar to private sector 401(k) plans which provides Federal employees the opportunity to save for additional retirement security.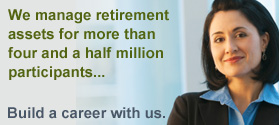 Our Mission:
To administer the TSP solely in the interest of participants and beneficiaries.
Our Vision:
We help people retire with dignity.
We ensure that FRTIB is a great place to work.
We maintain flawless operations.
We maintain excellent relationships with entities that oversee, regulate, govern and influence the TSP.
Last Updated: Thursday, 20-Sep-2012 13:23:40 EDT