Office of Population Genomics
Watch the video: Implicating Sequence Variants in Human Disease [ustream.tv]
Overview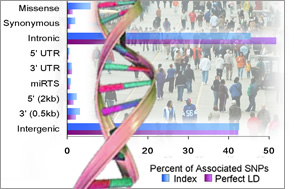 The National Human Genome Research Institute's Office of Population Genomics was established to facilitate the application of genomic knowledge to health. The office will promote multi-disciplinary research in epidemiology and genomics, by applying genomic technologies to existing population and clinical studies, and developing new population resources for investigation of genetic and environmental contributions to complex diseases.
The goals of the office include:
Establish research resources to identify genes related to complex diseases and their environmental modifiers. Examples of research resources include standardized genetic, environmental, and phenotypic data on meticulously characterized and consented individuals.
Improve analysis strategies for relating genotypic to phenotypic data.
Build successful NIH-wide collaborations in population-based genomic research.
Develop novel population research approaches.
Support cross-disciplinary training for geneticists, epidemiologists, clinical researchers, and clinicians.
Office of Population Genomics Staff
Ebony B. Bookman, Ph.D., M.G.C.
Epidemiologist
Mia Diggs
Program Assistant
Lucia Hindorff, Ph.D., M.P.H.
Epidemiologist
Heather A. Junkins, M.S.
Health Science Analyst
Rongling Li, M.D., Ph.D., M.P.H.
Epidemiologist
Teri Manolio, M.D., Ph.D.
Director, Office of Population Genomics
Senior Advisor to the Director, NHGRI, for Population Genomics
Professor of Medicine, Uniformed Services University of the Health Sciences
Ian L. Marpuri, B.S.
Scientific Program Analyst
Erin M. Ramos, Ph.D., M.P.H
Epidemiologist
Kathie Sun, B.S.
Scientific Program Analyst
Anastasia L. Wise, Ph.D.
Epidemiologist
Last Updated: September 12, 2012