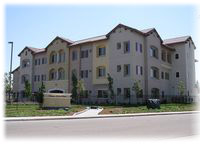 Western Regional Office
Overseen by Juan D. Castillo, the primary purpose of the Western Regional Office is to provide a safe, humane, and ethical correctional environment for both staff and inmates, while at the same time ensuring public safety. This is accomplished by providing expertise in the development, approval, implementation, monitoring, and evaluation of policies, operations, and programs for its 11 Federal institutions and 3 complexes, as well as contract services for inmates in residential reentry centers within the region.
FCI Mendota, presently under construction, is expected to come on line during 2011. The medium security institution is located in the City of Mendota, CA, near Fresno. Hiring has begun in preparation for activation. Interested parties may read about employment options available in the Bureau by visiting the Careers section. To apply, visit USAJOBS and enter "Bureau of Prisons" as keywords in the "What" box.
Physical Location:
Use this address for in-person visits and when sending correspondence and parcels to staff.

Western Regional Office
Federal Bureau of Prisons
7338 Shoreline Drive
Stockton, CA 95219

Phone: 209-956-9700
E-mail: WXRO/EXECASSISTANT@BOP.GOV*
*This e-mail address should be used only if you have questions that are specific to this location. For general questions, go to our Contact Us page.