What Government Does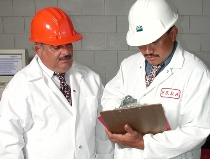 The food industry is responsible for producing safe food.
Government agencies are responsible for setting food safety standards, conducting inspections, ensuring that standards are met, and maintaining a strong enforcement program to deal with those who do not comply with standards.
Protecting the Nation's Food Supply
The Food Safety Modernization Act (FSMA), signed into law by President Obama on January 4, 2011 enables the Food and Drug Administration (FDA) to better protect public health by strengthening the food safety system. It allows FDA to focus more on preventing food safety problems, rather than reacting to problems after they occur.
Inspections
Learn how government agencies inspect and monitor food products to ensure compliance with food safety standards and inspection legislation. More >
Import/Export
The foods we eat today come from a global marketplace comprising over 170 countries. Find out how government agencies ensure that these foods are safe. More >
Risk Assessment
You've seen news reports about FDA tracking down contaminated foods that cause outbreaks, to get those foods off the the shelves and keep people from getting sick. More >
Learn More
Read about what the government does to protect your food supply.