Oklahoma Medicaid Statistics
Overview
Enacted in 1965 through amendments to the Social Security Act, Medicaid is a health and long-term care coverage program that is jointly financed by states and the federal government. Each state establishes and administers its own Medicaid program and determines the type, amount, duration, and scope of services covered within broad federal guidelines. States must cover certain mandatory benefits and may choose to provide other optional benefits.
Federal law also requires states to cover certain mandatory eligibility groups, including qualified parents, children, and pregnant women with low income, as well as older adults and people with disabilities with low income. States have the flexibility to cover other optional eligibility groups and set eligibility criteria within the federal standards. The Affordable Care Act of 2010 creates a new national Medicaid minimum eligibility level that covers most Americans with household income up to 133 percent of the federal poverty level. This new eligibility requirement is effective January 1, 2014, but states may choose to expand coverage before this date.
The Children's Health Insurance Program (CHIP) was created in 1997 through an amendment to the Social Security Act to provide health care coverage to low-income children not already eligible for Medicaid. Like Medicaid, CHIP is jointly financed by states and the federal government. States have the option of using CHIP funds to expand their existing Medicaid program, create a separate stand-alone CHIP, or do a combination of both.
Medicaid Enrollments and Payments
Medicaid and CHIP are jointly funded by the federal government and states. The following data show the number of enrollees in the Oklahoma Medicaid program, as well as the total program cost by federal and state shares.
Medicaid Enrollees, OK, FY2006-2009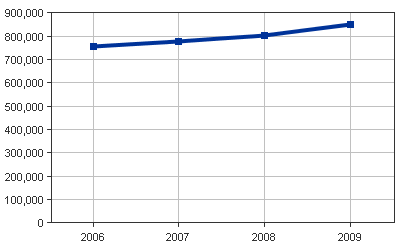 Medicaid Paid, OK, FY2006-2009
Medicaid Enrollments and Payments, OK, FY 2006-2010
Year
Population *
Enrollment Count
Total Medicaid Paid
Federal Share Paid
States Share Paid
2010
unavailable
unavailable
unavailable
unavailable
unavailable
2009
3,687,050
851,674
$3,766,999,610.00
$2,858,649,756.00

(75.89%)

$908,349,854.00

(24.11%)

2008
3,644,025
803,226
$3,419,812,221.00
$2,325,404,879.00

(68.00%)

$1,094,407,342.00

(32.00%)

2007
3,612,186
779,158
$3,263,204,924.00
$2,253,292,483.00

(69.05%)

$1,009,912,441.00

(30.95%)

2006
3,574,334
756,007
$2,871,055,638.00
$1,977,866,246.00

(68.89%)

$893,189,392.00

(31.11%)
Notes:
Data sources: Medicaid Statistical Information System (MSIS) and Medicaid Financial Management Report.
Reports are based on federal fiscal year, not calendar year basis.
Enrollment counts include all ever enrolled, with or without Medicaid services rendered during the fiscal year.
State and local administrative expenses, CHIP expenses are not included.
* Population data are from US Census Bureau.
Medicaid and Managed Care Enrollment figures represent all ever-enrolled enrollees during the fiscal year.
The unduplicated managed care enrollment figures include enrollees receiving benefits from any of the managed care arrangements: HMO, Dental Plan, Behavioral Health Plan, Long Term Care Plan, PACE Plan, PCCM, and other managed care entities.
The unduplicated managed care enrollment figures include enrollees receiving comprehensive and/or limited benefits.
FY2009 enrollment counts do not include data for MA, UT and WI. FY2010 enrollment counts include data for 22 states.
Managed Care
This table shows the number and percentage of Medicaid enrollees who receive their health care services through a managed care program. Managed care services are typically delivered by an organization under state contract.
Medicaid Oklahoma Managed Care Statistics
Medicaid Enrollment*
Managed Care Enrollment*
Percent in Managed Care*
851,674
724,746
85.10%
* 2009 data
Eligible Populations & Services
Medicaid and CHIP provide health coverage to nearly 60 million Americans, including:
Children
Pregnant women
Parents
Seniors
Individuals with disabilities
To participate in Medicaid, federal law requires states to cover certain population groups (mandatory eligibility groups) and gives them the flexibility to cover other population groups (optional eligibility groups). States set individual eligibility criteria within federal minimum standards. States can apply to CMS for a waiver of federal law to expand health coverage beyond these groups.
Benefit Groups
States establish and administer their own Medicaid programs and determine the offered services within broad federal guidelines. States are required to cover certain "mandatory benefits" and can choose to provide other "optional benefits" through the Medicaid program. Medicaid provides coverage for a range of benefits including:
Doctor visits
Emergency care
Hospital care
Vaccinations
Prescription drugs
Vision
Hearing
Long-term care
Preventative care for children