Campaign Materials
Infographic: A Decade of Inspiring Women to Protect Their Hearts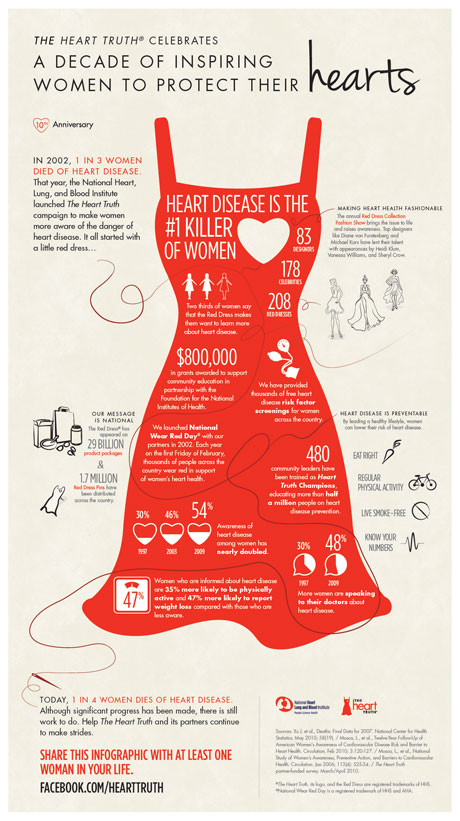 ---
Tweet

Copy and paste the code below to embed this infographic (460px × 821px)


---
The Heart Truth® celebrates a decade of inspiring women to protect their hearts.
10th Anniversary
In 2002, 1 in 3 women died of heart disease. That year, the National Heart, Lung, and Blood Institute launched The Heart Truth campaign to make women more aware of the danger of heart disease. It all started with a little red dress…
Heart disease is the #1 killer of women.
Making heart health fashionable.
83 designers
178 celebrities
208 red dresses
The annual Red Dress Collection Fashion Show brings the issue to life and raises awareness. Top designers like Diane von Furstenberg and Michael Kors have lent their talent with appearances by Heidi Klum, Vanessa Williams, and Sheryl Crow.
Two thirds of women say that the Red Dress makes them want to learn more about heart disease.
$800,000 in grants awarded to support community education in partnership with the Foundation for the National Institutes of Health.
We have provided thousands of free heart disease risk factor screenings for women across the country.
Heart disease is preventable.
By leading a healthy lifestyle, women can lower their risk of heart disease. This includes:
Eat right
Regular physical activity
Live smoke-free
Know your numbers
480 community leaders have been trained as Heart Truth Champions, educating more than half a million people on heart disease prevention.
We launched National Wear Red Day in 2002. Each year on the first Friday of February, thousands of people across the country wear red in support of women's heart health.
Our message is national.
The Red Dress® has appeared on 29 billion product packages and 1.7 million Red Dress Pins have been distributed across the country.
Awareness of heart disease among women has nearly doubled.
1997: 30%
2003: 46%
2009: 54%
More women are speaking to their doctors about heart disease.
1997: 30%
2009: 48%
Women who are more informed about heart disease are 35% more likely to be physically active and 47% more likely to report weight loss compared with those who are less aware.
Today, 1 in 4 women dies of heart disease. Although significant progress has been made, there is still work to do. Help The Heart Truth and its partners continue to make strides.
Share this infographic with at least one woman in your life.
Last Updated: September 20, 2012