Women of Color Partners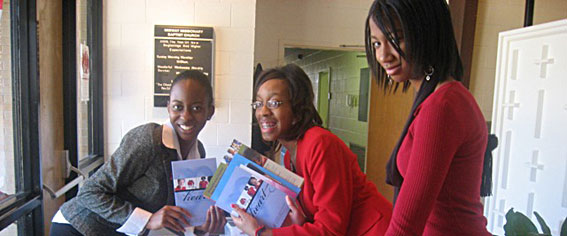 Reaching Women of Color with Heartfelt Alliances
The Heart Truth® Women of Color initiative is reaching thousands of African American and Hispanic women throughout the United States with key campaign messages about lowering the risk for heart disease. The campaign expanded its outreach efforts in partnership with three longtime Heart Truth community partners to implement a series of community events, including Heart Truth workshops to educate women about heart disease and risk factor screenings. These programs are helping to increase awareness of heart disease among African American and Hispanic women in the communities where they live.

This Faith-Based Activities Toolkit contains ideas and resources you can use to plan your own faith-based Heart Truth program.
National Latina Health Network (NLHN) launched
Heart Healthy Day in 2007 by conducting heart health screenings and education sessions in New York City, NY, Houston, TX, Chicago, IL, and Miami, FL, reaching more than 2,000 individuals with The Heart Truth messages. The NLHN's Heart Healthy Day was covered by Telemundo, a media partner of the NLHN, and reached an estimated audience of 48,430,700. The NLHN also incorporated The Heart Truth into the National Heart, Lung, and Blood Institute's (NHLBI) Su Corazon, Su Vida community education program to reach Latinas with low reading and health literacy levels.


National Coalition of Pastors' Spouses (NCPS) partnered with three churches in Atlanta, GA in 2008 to launch the NCPS' Heart Truth Pilot Program. This program recruited and tracked approximately 60 African Americans through health education sessions, walking clubs, and regular screenings. At the end of the program, the participants walked more than 9,600,000 steps and had significantly lowered their blood pressure, BMI, cholesterol, and blood glucose.


The Links, Incorporated adopted The Heart Truth as one of its signature programs—HeartLinks—at its National Assembly in 2008. The Links Incorporated began the HeartLinks program in four of its chapters across the country. The four chapters hosted heart health educational sessions, risk factor screenings, and presented a Heart Truth workshop at the organization's National Assembly. Collectively they reached more than 1,500 African American women with The Heart Truth messages.

Favaloro Foundation - In August 2009, The Heart Truth campaign announced its partnership with the Favaloro Foundation in the Republic of Argentina to help educate Argentine women about their risk factors for heart disease. The Favaloro Foundation is a nonprofit organization dedicated to providing medical care, generate scientific knowledge, and educate health professionals. In Argentina, 250 per 100,000 people die of heart disease each year, of which 40 percent are women. The campaign in Argentina will be known as Cuidá tu corazón, The Heart Truth™ (Take Care of Your Heart) and was officially launched on September 9, 2009, with a Red Dress Collection fashion show held during an annual fashion event called "Buenos Aires Alta Moda." Argentine designer, Claudio Cosano, designed 15 red dresses, which were modeled by famous Argentine celebrities. Visit the Image Library to see photographs from the fashion show. Campaign activities in Argentina will include: requesting a national/state, Cuidá tu corazón, The Heart Truth™ campaign declaration from the Argentine Congress; showcasing the red dresses worn by the Argentine celebrities in different fashion shows around the country and national medical conferences; promotion of educational materials during weekly health education classes organized by the Favaloro Foundation; and media relations activities to promote heart health information to the Argentine public.
Women of Color Partner Spotlight

The Miss Black USA Pageant
The Miss Black USA Pageant is on a mission to empower young women to take control of their heart health. The Pageant takes the term "girl power" to new heights. Each year, all 50 State delegates and the District of Columbia host more than 200 events and activities across the nation to bring awareness of The Heart Truth, the organization's national platform. In addition to the "Wear Red Fashion Shows" hosted by colleges and universities, and raising women's heart disease literacy through "Beauty Shop Talk," the women also raise funds for research. The events and fundraisers kick off in January, immediately following the pageant's annual "Red Dress" photo shoot. Pageant founder, Karen Arrington, believes the Miss Black USA organization is the perfect vehicle to reach women with messages about preventing heart disease risk factors. It is the mission of the Miss Black USA organization to provide educational opportunities to outstanding young women of color and to develop the "whole woman, mind, body and spirit."
Women of Color Partner Organizations
AME Church Connectional Health Commission—www.amechealth.org
Association of Black Cardiologists, Inc.—www.abcardio.org
Black Women's Health Imperative—www.blackwomenshealth.org
Catalina magazine—www.catalinamagazine.com
Chi Eta Phi Sorority, Inc.—www.chietaphi.com
ESSENCE magazine—www.essence.com
Favaloro Foundation—www.fundacionfavaloro.org/welcome/welcome_index.htm
The League of United Latin American Citizens, Women—www.lulac.org/women.html
The Links, Inc.—www.linksinc.org
MANA, A National Latina Organization—www.hermana.org
Miss Black USA—www.missblackusa.org
National Association of Latina Leaders—www.latinaleaders.org
National Black Nurses Association—www.nbna.org
National Coalition of Pastors' Spouses—www.pastorspouses.com
National Latina Health Network—www.nlhn.net
St. Agnes Hospital, A Sister's Heart, Baltimore, MD—www.sistersheart.org
Additional Resources
Quick Facts Women of Color should know:
For African American women, the risk of heart disease is especially great. Heart disease is more prevalent among African American women than Caucasian women, as are some of the factors that increase the risk of developing it—high blood pressure, overweight, and diabetes.
Hispanic women also have high rates of some factors that increase the risk of developing heart disease, such as diabetes, overweight and obesity, and physical inactivity. Some 83 percent of midlife Hispanic women are overweight or obese, and more than 10 percent have been diagnosed with diabetes.
More than 80 percent of midlife African American women are overweight or obese, 52 percent have high blood pressure, and 14 percent have been diagnosed with diabetes.
To learn more about how your organization or association can help spread The Heart Truth, visit the Activity Ideas Web page.
To include activities to raise awareness about women and heart disease in your faith-based community, visit The Heart Truth's Faith-Based Online Toolkit.
Last Updated: February 29, 2012