Advancing the Science of Smoking Cessation Interventions through Recovery Act Funding
The ARRA funds represent an opportunity for us to move forward with our ability to provide smoking cessation resources in a way that plain and simply could not have been done without the funding.

—Dr. Erik Augustson, Tobacco Control Research Branch, NCI
In the United States, smoking is a leading cause of cancer, responsible for one-third of all cancer deaths. Although it has long been known that tobacco use is the chief avoidable cause of illness and mortality, it continues to account for about one in five deaths annually. Unless the 45 million Americans who continue to smoke are able to stop, half of them will die prematurely from diseases like lung cancer and heart disease. Many smokers—approximately 70 percent—have the desire to quit completely and about 40 percent of smokers try to quit each year. However, most quit attempts are not successful because the physical and behavioral challenges that accompany smoking cessation are not easy for smokers to manage.
"We find that dealing with the nicotine withdrawal is not what typically trips people up, but rather smoking triggers, the factors that become associated with smoking. And so the cravings and missing having a cigarette really represents the biggest challenge for most people," said Erik Augustson, PhD, MPH, Program Director in the Tobacco Control Research Branch (TCRB) at the National Cancer Institute (NCI) within the Division of Cancer Control and Population Sciences.
Tobacco Cessation: Success Strategies
The NCI's Cancer Information Service (CIS) Contact Center has been providing assistance to help people stop smoking since the 1980s through its smoking quitline, 1-877-44U-QUIT. Developed by NCI's Office of Communications and Education (OCE), with web resources provided by NCI's TCRB, this free smoking cessation program helps smokers develop a quit plan using a combination of techniques. The CIS Contact Center shows users how behavioral strategies, nicotine replacement medication, and social support help manage cravings and give smokers the best chance of success for quitting.
"I think that this is really a critical service to people who are ready to quit smoking. And some of the roles that we play quite well include being able to communicate medical information in easy-to-understand terms, and providing a tailored one-on-one experience to help that individual," said Mary Anne Bright, RN, MN, Associate Director, NCI Office of Public Information and Resource Management at OCE.
The CIS Contact Center, which handles calls about cancer and smoking cessation in both English and Spanish, is based in the Fred Hutchinson Cancer Research Center in Seattle. Nearly 65 information specialists with backgrounds in public health respond to thousands of phone, e-mail, web and instant-message inquiries from across the U.S. The specialists are knowledgeable about nicotine dependence and are skilled counselors who help guide smokers through a problem-solving process and develop tailored quit strategies, and can also suggest additional information sources, including women.smokefree.gov and smokefree.gov, managed by NCI's TCRB. While the CIS Contact Center provides invaluable evidence-based information and support, it is also the specialists' comforting approach in working with people that makes a person's given situation more manageable.
Smoking: A Social Issue
NCI's TCRB uses social networks like Facebook and Twitter to create an online support community. Members of the women.smokefree.gov Facebook community can share stories, offer and receive encouragement and get the latest news on the benefits of being smoke-free.
"We're trying to take advantage of some of the emerging technology and the new social media that are available as a means to provide people with social support as well as information about quitting smoking and strategies to quit," said Dr. Augustson. The companion Facebook and Twitter pages for women.smokefree.gov were launched in 2009.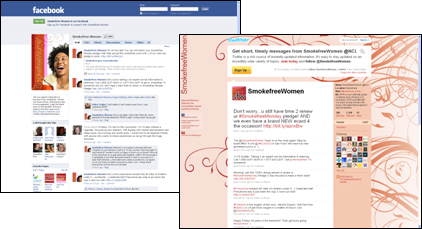 Although a number of federal agencies have a Facebook presence, Dr. Augustson believes the NCI is one of the first that is using Facebook to actually deliver an intervention. "We're excited to see that a community is in fact forming to support each other in trying to quit. That's exactly what we hoped would happen."
NCI's smokefree.gov and women.smokefree.gov websites include information about the nature of nicotine dependence and what makes quitting difficult. To help smokers identify and address situations that might be challenging, there are features that suggest methods for dealing with these obstacles and for managing cravings. Smokers can also turn to a list of reasons for quitting whenever they are looking for additional positive reinforcement.
Recovery Act Funding: Advancing Science and Creating Jobs
Hundreds of thousands of people each year access these websites as quitting resources. With such wide reach and popularity, there is tremendous interest in enhancing the effectiveness of these sites. Recent funding through the American Recovery and Reinvestment Act (ARRA) is enabling NCI to do just that—to develop and implement an extensive initiative to further evaluate and improve these smoking cessation programs.
"There are so many compelling reasons why we need to help smokers to quit, and we need to conduct cutting-edge science to provide smokers with new modalities to quit," said Michael Fiore, MD, MPH, MBA, Professor of Medicine and Director, Center for Tobacco Research and Intervention, University of Wisconsin School of Medicine and Public Health. Dr. Fiore is a nationally recognized expert on tobacco working with the NCI to lead the research efforts. "These websites are based upon the best science that's available today, and thus on firm scientific ground, but NCI—and I commend them for this—wanted to go further and do a formal and specific evaluation of various aspects of smokegree.gov and women.smokefree.gov as it exists now and as it might be enhanced with additional cessation services."
The evaluation will demonstrate the effectiveness of smokefree.gov, women.smokefree.gov and the CIS Contact Center counseling calls, by comparing quit attempts for these three different types of services and success with cessation. Researchers will also look at whether the services can be enhanced with additional smoking cessation treatments like e-mail messages, mailed brochures, and proactive phone calls from the CIS Contact Center. Supplemental materials such as a two-week starter kit of nicotine medication are also being considered. The research is an attempt to understand the effects of these treatments used alone as well as what happens when treatments are integrated.
"We are combining efforts with TCRB to implement this research proposal, and to obtain experimental data that can hopefully be used to continue to improve both smokefree and the CIS in terms of services that we offer. So I expect that we will learn a lot from this research evaluation, and be able to turn it right around into our delivery," said Bright.
A large portion of the $4 million ARRA award will go towards the hiring of new staff to help with NCI's evaluation, expansion and promotion of its resources. With ARRA funds, the CIS Contact Center can hire and train four additional information specialists, and NCI's TCRB will recruit for 10 to 15 contract positions to support the online interventions and evaluation.
"The ARRA funds represent an opportunity for us to move forward with our ability to provide smoking cessation resources in a way that plain and simply could not have been done without the funding," said Dr. Augustson.
And this award will also support three University of Wisconsin researchers to continue to advance the science.
"You know one wonderful thing about this ARRA award is that scientific questions that will improve health across America as a result of this funding are being asked and answered. And what's really impressive about it is that the funding insists that this happens on an accelerated timetable," said Dr. Fiore.
NCI and the University of Wisconsin are in the process of finalizing the research methodology; securing Institutional Review Board (IRB) approval to ensure that the study protocol and materials meet ethical, regulatory and scientific standards; and gathering resources to perform the evaluation, which is slated to be launched in the spring of 2011. Once the analysis has been completed, the results will be published in scientific literature, presented at scientific conferences, and prepared in a lessons learned document, which will be shared with the general public.
"What we hope to have by the time we've wrapped up all the pieces, is the ability to provide cessation support to smokers wherever they are," said Dr. Augustson. "Whether that is via phone, via website or via mobile applications—pretty much any space that someone who wants help is in, we will be able to be there in a proactive fashion to support them."