Training the Next Generation of Researchers in the Emerging Field of Comparative Effectiveness Research
Career paths do not always follow a prescribed set of linear steps. Quite often, life intervenes, taking people on unexpected—yet fulfilling—routes and detours. As Ken Carson, M.D., knows all too well, these experiences can be life changing, leading those onto careers they hadn't previously envisioned.
"I was an undergraduate student in business administration and graduated with a degree in business," said Dr. Carson, an Assistant Professor of medicine at Washington University. "But while I was a student, I developed cancer, and that caused me to change my thinking and move in a different direction toward medicine. And ultimately, I became a medical oncologist."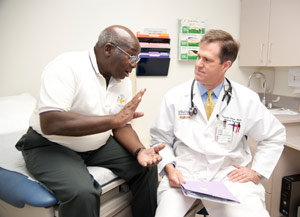 During his years of medical training, Dr. Carson never forgot what he learned as an undergraduate. "I was always struck by the fact that seldom was the cost of treatment ever a consideration in medical decision-making," he said. "This pushed me into public health to try to understand how to better look at populations of patients to try to guide health policy so that we can do things more efficiently and effectively in this country." Dr. Carson's clinical expertise and passion for public health led him to pursue comparative effectiveness research (CER) in military veterans with a type of non-Hodgkin's lymphoma for which there is currently no clear standard of care. His training and research is made possible through an Institutional CER Mentored Career Development Award (KM1).
The KM1 CER training program is a new program supported by funds provided to the National Institutes of Health by the American Recovery and Reinvestment Act and administered through the National Cancer Institute (NCI). These awards enable institutions like Washington University, Duke University and the University of Utah—in addition to five other institutions—to mentor and train a new generation of researchers in CER. (
See accompanying article
for more details on the eight institutions' CER training programs.) CER allows researchers and clinicians to understand the impact of different options for the detection, treatment and management of cancer for specific patient populations.
According to Victoria Fraser, M.D., Principal Investigator and Program Director of the KM1 CER training program at Washington University, CER is of growing importance to oncology and numerous medical specialties. To make a difference and ultimately eradicate cancer, researchers have to move from bench science to implementation of best treatment practices in real-world settings.
In most robust randomized clinical trials, certain patients may be excluded because of their additional health conditions, advanced age or because they don't fit the inclusion criteria. CER studies are important because they help researchers try to gain a better understanding of what works best for more varied groups of patients—patients who don't always fit in randomized controlled trials.
"Our goals are to develop specific curricula and training in CER methods for faculty from diverse disciplines," said Dr. Fraser. "Our CER training program focuses on utilizing clinical research data, administrative data and electronic health records data to conduct large cohort studies and to be able to control for co-morbidities and other sources of bias. CER will help to determine the best treatments, imaging modalities, prevention and diagnostic strategies for real-world patients."
CER is a relatively new and emerging field, so "there is a critical need for researchers who possess the essential training and expertise," said Ming Lei, Ph.D., Branch Chief of the Cancer Training Branch (CTB), which manages the KM1 CER training grants. CTB is a part of the NCI's Center for Cancer Training. "The hope is that after receiving training in CER these scholars will become leaders who carry on independent research and train others in this field."
The Recovery Act-funded KM1 CER training program provides opportunities for researchers ranging from those in earlier career stages who are looking to learn new skills in this area, to those in more established careers who may wish to enhance their oncology practice through the pursuit of CER. The awards provide funding for curriculum development, salary support, stipends and protected time, and funds for tuition, fees, travel and research project expenses.
Through an NIH peer-review process, institutions were selected to receive the KM1 grants to implement their CER training programs. "By having the Recovery Act funding available, institutions are able to offer training in CER to a significant number of researchers," said Susan Perkins, Ph.D., Program Director at CTB. "Over their three-year life, these Recovery Act awards will support 30 to 48 scholars each year."
Scholars like Tamara Somers, Ph.D., Assistant Professor in the Department of Psychiatry and Behavioral Sciences at Duke University, believe that the Recovery Act-funded KM1 CER training program promotes and encourages cancer researchers to use resources that may already be available—such as existing databases and electronic systems of patient-reported outcomes—to examine new ways to answer research questions.
Dr. Somers' research focuses on behavioral interventions to decrease disease-related pain in patients with cancer. "A challenge with behavioral interventions has been really trying to personalize these interventions, and CER provides a nice framework to understand subpopulations that may benefit most," said Dr. Somers.
Recovery Act funding has also enabled the University of Utah to expand its training infrastructure so that when the scholars graduate, they will have the tools they need to conduct CER and to lead teams of investigators.
"This award has allowed us to offer training to a broad group of physicians and other individuals like healthcare economists, creating a diverse nucleus of scholars that will allow a real change and focus in CER," said Carrie Byington, M.D., Professor of Pediatrics and Associate Director of the Center for Clinical and Translational Science at the University of Utah.
Collaborating with Dr. Byington is Mark Fluchel, M.D., a Pediatric Oncologist and Assistant Professor in infantile oncology at the University of Utah, who has worked with underserved communities both in the U.S. and abroad. This experience shaped his interest in how cancer impacts populations. Through the CER training program, Dr. Fluchel is able to research how to improve the delivery of care to pediatric cancer patients from rural and underserved communities.
This research will be applicable to other cancer treatment centers because almost every child with cancer will be treated at one of the major academic centers in an urban area. Dr. Fluchel's long-term goal is to involve other institutions and hopefully expand this research to the national level, and report back to those institutions through scientific publications and presentations to share key findings.
"Funding like this is absolutely essential to the development and testing of new cancer therapies and new supportive care treatments for patients undergoing cancer treatment," said Dr. Fluchel. "This is the kind of funding that will continue to allow researchers in the U.S. to really lead the way in the fight against cancer."