We Can!® Training
Upcoming Trainings
Check back for trainings scheduled for 2012.
Learn about We Can! training programs:
Train-the-Trainer Events
Online Parent Program Training
Train-the-Trainer Events
We Can! conducts training events across the country to help communities implement We Can! curricula and programming in a variety of settings. Not only do participants learn about the program and its wealth of flexible, turn–key resources and materials, but they also learn tips from leaders in the field who have implemented the program, and are provided with an opportunity to connect with other community members interested in achieving similar goals in creating and sustaining healthy living.
A We Can! training can help you either invigorate your existing programming or kick off new programming. These trainings are designed to be instructional and interactive, and are open to anyone interested in facilitating the program in your community.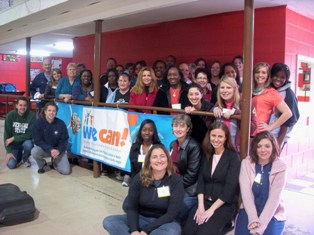 In 2010, We Can! conducted nine trainings in the following locations, reaching over 800 participants:

If you were not able to attend one of these trainings, and are still interested, keep an eye out for future training opportunities. Check out the Upcoming Trainings section above for more information.
If you are interested in hosting your own We Can! training, you can request more information by completing the We Can! Training Request Form
(25 KB) and e–mailing it to nhlbiinfo@nhlbi.nih.gov. Trainings can be customized based on your community's needs and the availability of curriculum trainers. The host community site will be responsible for taking the lead in organizing and coordinating the event, but the national We Can! team will be there every step of the way, providing technical support and guidance to make your event a great success.
If you have any questions about attending or hosting a We Can! training, please contact nhlbiinfo@nhlbi.nih.gov.
Online Parent Program Training
If you're interested specifically in the We Can! Parent Program, you don't even need to leave your desk to receive training for that curriculum. We Can! created an
online training that is as close as the click of your mouse. Just fire up your computer, log on, and learn. We Can! developed this nine–chapter training to guide program facilitators in delivering the four–session curriculum specifically geared toward parents, teaching them skills to help the whole family make more nutritious food choices, become more physically active, and reduce screen time. While viewing the training, you can also tap into several other resources that can assist you in launching your We Can! programming or re–energize your current programs through new ideas, tips, and technical assistance.
In addition, registered dietitians (RDs) and certified health education specialists (CHES) may apply for and receive two and three hours of continuing education credits, respectively.
Learn more about the online Parent Program training.