Featured Programs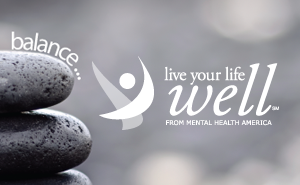 Live Your Life Well
Live Your Life Well is a national campaign developed to educate the public about the importance of mental health to overall health and wellness. This campaign offers 10 evidence-based tools that one can use to support optimal mental health. The goal is to encourage people in distress to attend to their mental health through any combination of self-care, social support and professional help.
Mental Health America has been working for 100 years to promote well-being for all Americans. Now we have put together the 10 Tools to Live Your Life Well. Based on extensive scientific evidence, these tools can help you relax, grow and flourish. They can help you Live Your Life Well.
Mental Health and Obesity
MHA staff recently conducted a review of the literature related to obesity and mental illness, synthesizing the existing research. The review focused primarily on issues related to adults but also included a brief description of childhood obesity issues. Special concerns related to individuals with serious mental illnesses were a primary focus of the review. There is an especially high prevalence of obesity among those with serious mental illnesses, which is related to excess morbidity and mortality in this population. Side effects from psychiatric medications are a major contributing factor to weight gain and obesity in this population. Treatment interventions were found to fall into one of three categories; behavioral (lifestyle change), surgery, and pharmacological. The review concludes with a discussion of the policy implications of the issue, describing policies that support the prevention, early identification, and treatment of obesity for individuals with serious mental illnesses, including several provisions of the Affordable Care Act.
Latest Alert: Tell Congress to Act to Avoid Sequestration: Protect Mental Health Programs from Automatic Cuts
Mental Health America's Advocacy Network is a powerful voice for change that is made up of thousands of individuals nationwide who take an active role in protecting America's mental health through legislative advocacy. Take Action!
For updates and progress, please view our legislative and policy resources, action alerts and Advocacy newsletters and issue updates.
Find an Affiliate
With our 240 affiliates nationwide, we represent a growing movement of Americans who promote mental wellness for the health and well-being of the nation—everyday and in times of crisis. Our Affiliates provide:
Direct access to a broad range of self-help and professional recovery support for people facing mental health challenges.

Housing and supported employment for adults with severe mental illnesses or referrals to services.

Easy access to comprehensive mental health screenings which enable individuals to identify a need for help.

Find your local affiliate...