Cancer Research Progress
We have made remarkable advances in cancer prevention, detection, treatment, and survivorship since the National Cancer Act was signed into law in 1971. Though much remains to be accomplished, we see great promise, particularly in the sequencing of the human genome and subsequent developments in cancer treatment. Read on for information on advances in cancer research as well as a look at the future of cancer-related research.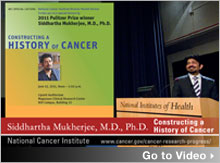 Research Advances
Highlights of Advances Since 1971
Key advances in cancer research since the National Cancer Act of 1971
150 Years of Advances Against Cancer
Timeline of key discoveries, advances, and events in cancer research from 1863 to 2010
Cancer Site Snapshots
Brief fact sheets on each major cancer type, including recent advances
Recent Advances in Cancer Research in Detail
Stories about disease-specific and broad-based advances in cancer research fueled by NCI funding
Cancer Trends Progress Report: 2009/2010 Update
A report that summarizes our nation's progress in fighting cancer based on the Healthy People 2010 targets from the Department of Health and Human Services, including key measures of progress in prevention, early detection, diagnosis, treatment, life after cancer, and end of life.
Cancer Survivorship Highlights
Stories and research advances in cancer survivorship highlighted in the NCI Cancer Bulletin
Success Stories in Technology Transfer
Highlights of NCI's role in developing important drugs and technologies for patients
The Future of Cancer Research
NCI Therapeutics Platform
A new vision for advancing genetically informed cancer medicine
American Recovery and Reinvestment Act at NCI: Advancing Research
Learn how projects funded by NCI through the American Recovery and Reinvestment Act of 2009 are expected to advance cancer research.
Searching the Genome to Understand Cancer Disparities among Minority Populations
Mapping the genome has brought new insight into the causes and progression of diseases such as cancer, opening up new avenues of research to improve prevention, diagnosis, and treatment. However, the human genome has yet to shed light into why some minority populations experience disproportionately high rates of common cancers.