Peace Corps 50th Anniversary 1961–2011
Celebrating 50 Years
In 2011, the Peace Corps commemorated 50 years of promoting peace and friendship around the world. Thank you for supporting the agency's mission and legacy of service by honoring our past, demonstrating our effectiveness, and inspiring the next generation of Volunteers through education and engagement.
Thank You

Your Donations Made This Possible
These young dancers from the Philippines were able to travel to the United States for the first time to share their cultural traditions with thousands of Americans at the Smithsonian Folklife Festival, thanks to donations made to the 50th Anniversary Fund.
The Peace Corps appreciates and acknowledges the individuals and institutions who contributed to the 50th Anniversary Fund.
50th Anniversary Photo Contest Winners
Thirteen thought provoking, creative photos were chosen as winners of the Peace Corps' 50th anniversary photo contest.
See all the Photo Contest Winners

Events and Activities
Peace Corps held many events throughout the year to commemorate 50 years of promoting peace and friendship around the world.
View all Peace Corps 50th Events and Activities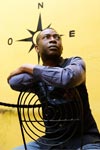 On Wednesday, September 21, 2011, Kennedy Center for the Performing Arts presented a concert honoring the 50th anniversary of the Peace Corps. The concert featured a performance by world renowned Senegalese artist Youssou N'Dour. In addition to sharing Senegalese culture, the event highlighted Peace Corps Volunteers' work in malaria prevention and education in western Africa. The Peace Corps is proud to have partnered with the Kennedy Center, a living memorial to President Kennedy, the Peace Corps' founder.
Peace Corps Interactive Timeline, 1961–Present
Learn about the history of Peace Corps over the last 50 years with our interactive Peace Corps 50th Anniversary Timeline! Explore the important dates, images and videos that tell our story from 1961 to the present.
Peace Corps Digital Library
This resource provides a searchable collection of select electronic Peace Corps materials. This collection consists of materials from the Peace Corps archives and contributions from current and returned Peace Corps Volunteers and Staff.
Browse/Contribute to the Peace Corps Digital Library
Peace Corps Times 50th Edition
50th Anniversary Overview (PDF)
Peace Corps Milestones (PDF)
Peace Corps 50th Anniversary Map in letter and legal sizes (PDF)
National Peace Corps Association Calendar (A comprehensive list of other events happening around the country.)
A message by the President of the United States of America on the 50th Anniversary of the Peace Corps
A Proclamation

Secretary of State Hillary Rodham Clinton on the 50th Anniversary of the Peace Corps
Press Release
Last updated Jul 16 2012