Home
› Parents & Teachers
Parents & Teachers
In This Section
Find the latest science-based information about the health effects and consequences of drug abuse and addiction and resources for talking with kids about the impact of drug use on health.
Free Resources for Parents
Parents Discuss Drug Abuse and Addiction with Dr. Volkow, Director of NIDA
Do you know where kids get access to prescription drugs? Learn the
Rx Facts
.
Must-Have Resources for Parents
Spanish Only
Free Resources for Teachers
Elementary School
Middle/High School
K-12
Spanish Only
Prescription Drug Abuse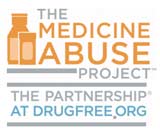 Learn what you can do to
prevent medicine abuse at
medicineabuseproject.org
NIDA's Publication Series