Presidential Transition
GSA has a major role to play and essential services to provide in our country's presidential transition process. Learn More>

The support GSA provides to the presidential transition process is essential to ensuring a smooth transfer of Executive Branch operations. Read More>
GSA has a major role to play and essential services to provide in our country's presidential transition process.
The support GSA provides to the presidential transition process is essential to ensuring a smooth transfer of Executive Branch operations.
Overview
The United States General Services Administration assures a smooth transition between administrations of the Executive Branch of the Federal government. This site serves as both a directory for appointees to use as well as a record of modern transition activities.
How to Use This Site
This site has been organized into the three main topic areas outlined below. Depending upon your information needs, begin looking in that area of the site (use the Tabs above or the Quick Links in the middle of the page).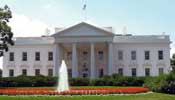 Audience:
The "For the Executive Branch" Tab contains information about the responsibilities of the Executive Branch during the transition, as well as resources available to them across the Federal Government.
The "For Nominees/Appointees" tab contains information for Presidential Appointees to familiarize themselves with Federal service and the agencies with which they will be working.
Legislation:
This site provides publically accessible information deemed necessary and useful to the President and Vice-President elect, as well as the new administration's nominees and appointees. Legal requirements for outgoing members of the prior administration are also provided herein.
Resources:
A Federal Government Primer, Resource links for Nominees and Appointees, as well as other useful/helpful information are also provided.
KEY DATES
For convenience, here is a list of Transition "milestones:"
Republican National Convention
August 27 - 30, 2012, Tampa, FL
Democratic National Convention
September 3 - 6, 2012, Charlotte, NC
Presidential Election
Tuesday, November 6, 2012
Electoral College Vote
Monday, December, 17, 2012
Inauguration
Sunday, January 20, 2013
QUICK LINKS