Brief Description
There are a variety of sources of information NIDA uses to monitor the prevalence and trends regarding drug abuse in the United States. The resources below cover a variety of drug related issues, including information on drug usage, emergency room data, prevention and treatment programs, and other research findings.
Monitoring the Future Survey (MTF)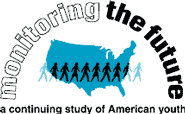 Results from a yearly survey of teenagers conducted by the University of Michigan's Institute for Social Research and funded by NIDA. (Survey results, updated each autumn.) View survey results and MTF publications.
Featured Publication

As a result of scientific research, we know that addiction is a disease that affects both brain and behavior.
NIDA's Publication Series