Print Friendly
West Point Mint Facility
Located near the U.S. Military Academy in New York state, the United States Mint at West Point manufactures the entire family of American Eagle proof and uncirculated coins in gold, silver, and platinum. The gold and platinum coins are manufactured in denominations of one-ounce, half-ounce, quarter-ounce and tenth -ounce. Silver bullion coins are manufactured in one-ounce denomination.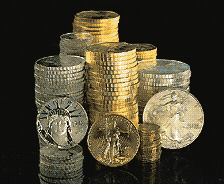 The West Point Mint produces gold, silver and platinum bullion coins.
Erected in 1937 as the West Point Bullion Depository, this was originally a storage facility for silver bullion and was nicknamed "The Fort Knox of Silver." From 1973 to 1986, West Point produced cents, and in 1980 began striking gold medallions. Shortly afterward, approximately 20 billion dollars worth of gold was stored in its vaults, making it second only to Fort Knox for gold storage. Today, it is also the major producer of gold coins.
The red letter date for West Point was March 31, 1988, when it gained official status as a United States Mint. Today, it is still a storage facility, but also manufactures, packages and ships gold and silver commemorative coins, and American Eagle Bullion coins in proof and uncirculated condition. Its Platinum Eagles have been very popular since their first issuance in 1997. In 2000, it struck the first ever Gold and Platinum Bi-Metallic Coin.
Because of its extremely high security, the West Point facility does not offer public tours.
Other Mint Facilities
Denver || Philadelphia || San Francisco