Consumer Booklet
This 20-page, easy-to-read illustrated booklet discusses the major content of the 2012 Surgeon General's report in plain language. It is designed to help parents, teachers, policy makers, health care professionals, and other concerned adults understand the importance of the report and how they can take a stand to protect young people from the devastating effects of tobacco use.
Interested in posting this syndicated content on your Web site?
See the list of Smoking and Tobacco Use syndicated pages, find the page, and select the Add to List link next to it.
File Formats: All viewers, players, and plug-ins used on this site can be downloaded from the file formats page. (For example: Adobe Acrobat Reader for pdf files, Windows Media Player for audio and video files, PowerPoint Viewer for presentation slides, etc.)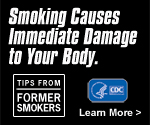 Contact Us:
CDC/Office on Smoking and Health
4770 Buford Highway
MS K-50
Atlanta, Georgia 30341-3717
800-CDC-INFO
(800-232-4636)
TTY: (888) 232-6348
8am–8pm ET
Monday–Friday
Closed Holidays