In This Section
Brain Power! takes students on an age-appropriate exploration of the science behind drug abuse, explaining the effects of drugs on the brain and body.
Modules
Each module includes a lesson plan featuring resources; introduction to the module; list of learning objectives; materials list; any preparation that the teacher must do before teaching the module; step-by-step procedures on how to complete the investigation; and discussion questions.
T-shirts, Stickers, and Buttons

Each unit includes templates to help make your own t-shirts, stickers, and buttons.
Handouts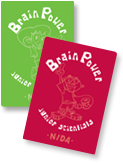 At the end of each module, related handouts are ready for you to photocopy or create transparencies. Handouts include activities, worksheets, trading cards, magazines and posters.
Videos
Each module includes a videotape that sets the stage for the investigation by providing background information and summarizing the main ideas of the activity.
Featured Publication
As a result of scientific research, we know that addiction is a disease that affects both brain and behavior.