Health Data Initiative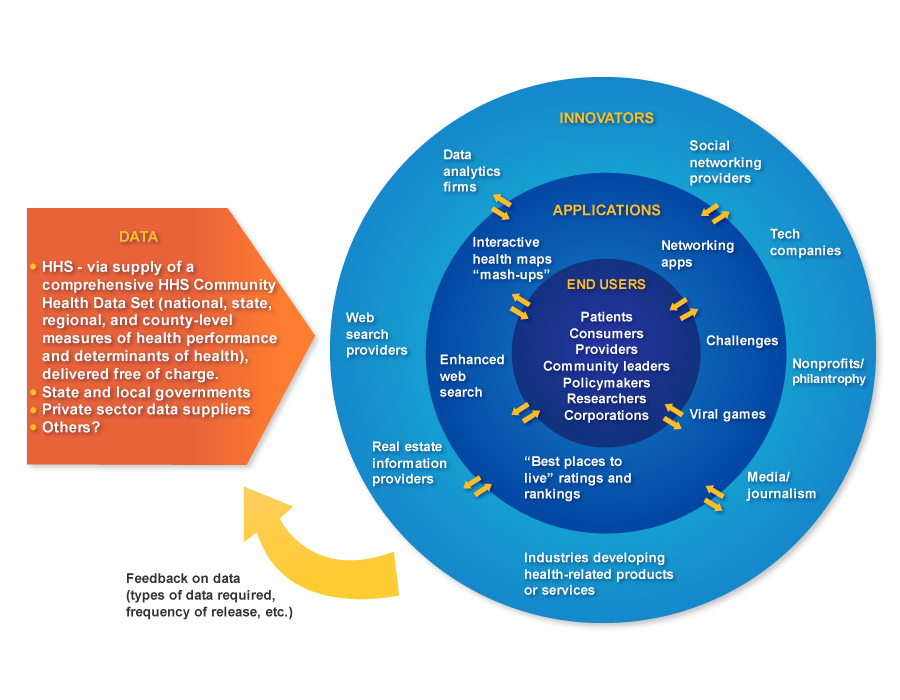 The Health Data Initiative (HDI) was launched in 2010 by the Institute of Medicine (IOM) and the U.S. Department of Health and Human Services (HHS) after a meeting between leaders from federal agencies, academia, social sectors, public health communities, information technology firms, major businesses, and health care delivery systems.  This group formed the Community Health Data Initiative, a public-private partnership, which has grown into the Health Data Consortium that is currently made up of 17 organizations that encourage innovators to utilize health data to develop applications to raise awareness of health and health system performance and spark community action to improve health.
Under the Health Data Initiative:
HHS released greater amounts of health data in more usable formats;
Software developers use the data to create new applications that will make health information increasingly useful for individuals, communities and service providers; and
With improved data and creative new applications, consumers, communities and service providers initiate effective new efforts in disease prevention, health promotion and measurement of health care quality and performance. 
Learn more about the initiative or go to HealthData.gov to get access to the data.  Also, follow the health data conversation on Twitter using the #healthdata hashtag. 
---
Health Data Initiative Forum
Each year, the Health Data Initiative has had a Health Data Initiative Forum which brings data users, data owners, developers, venture capital, government and business together to meet and discuss the true power of data.  Below is information from past meetings: 
2012 Annual Forum
June 4 – 5, 2012 | at the Walter E. Washington Convention Center| Agenda (PDF) | View the Archive of Health Data Initiative III
2011 Annual Forum
June 9, 2011 | at the National Institutes of Health | Agenda (PDF) | View Archive of Health Data Initiative Forum II
2010 Annual Forum
June 2, 2010 | at the National Institute of Medicine | View archive of the Community Health Data Initiative
Find out more on the Health Data Initiative Forum.
Health Data Initiative Affiliate Network
Interested in participating in the Health Data Initiative at the local level? Check out the HDI Affiliate Network.  The Affiliate Network refers to health data chapters all across the country that includes a broad group of stakeholders - everyone from business to foundations to local government to academic institutions. Each Affiliate will support the health data ecosystem through a variety of activities. More information on the Affiliates can be found on the HDI Consortium website.