Communications Services Division – HHS Studio
Video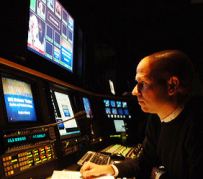 The Communications Services Division – HHS Studio provides a comprehensive range of production services, technical expertise and video production resources to the Department. 
The Communications Services Division – HHS Studio produces a variety of video programs, from live satellite broadcasts and media tours to interactive programming and web-based media products.  Products include training, informational, media outreach, and our primary mission of emergency preparedness and response programming.
Some in-house capabilities include:
Fiber connectivity to NIH, CDC, FDA, CMS, and NIH
Satellite uplink and downlink
Studio and Field production
Video editing
Audio
HealthBeat Podcast  Help with Podcast
HHS HealthBeat, launched on July 11, 2005,  provides health promotion and disease prevention tips 5 days a week in audio and text formats.
Consumers—choose a HealthBeat tip below to listen. Be sure to visit the Take the Next Step link, too, because it provides more information to help you take action to improve your health.
Radio stations and other media—you can download tips for broadcast use. Please attribute HealthBeat tips to the U.S. Department of Health and Human Services.