The Bioethics Research Library at Georgetown University is an interdisciplinary and multi-format collection on ethical issues related to health care, biomedical research, biotechnology, and the environment. More »
Welcome to the Bioethics Research Library
Update: We've redesigned our homepage. You will now find EthxWeb in the Bioethics resources tab above.
Find books, audiovisuals, e-resources, and more
View new titles at the BRL
,
all materials at off-campus shelving
, or
all journal/serial holdings
of the BRL.
Advanced catalog search
View advanced search forms for
GU
,
WRLC
, or
WorldCat
.
Selected resources
For a list of all academic databases available at Georgetown University view the
A to Z Database List
.
Online Access at Georgetown University
Many databases provide links to full text. If you need access to a specific article or journal try the following:
Google Scholar
Look for "Find full-text @ GU" (or a library link) for article access.
Find journals by title or ISSN
Browse Bioethics Journals
View full text options for an article
If you have the citation already, you may use the citation linker tool to look up full text options at Georgetown University.
Request an article or journal
Georgetown-affiliated users can request materials through Article Reach, Consortium Loan Service, or InterLibrary Loan. Learn how to request an article or journal title.
Not affiliated with Georgetown University?
The Bioethics Research Library participates in InterLibrary Loan, including DOCLINE, and you may request articles via your local library's Interlibrary Loan program.
Explore by topic
Featured project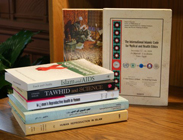 The Islamic Medical and Scientific Ethics (IMSE) Project
A collaborative effort of two Georgetown Libraries, the Bioethics Research Library and the School of Foreign Service-Qatar Library (Doha), to produce a comprehensive collection of resources pertaining to Islamic perspectives in the broad field of bioethics.