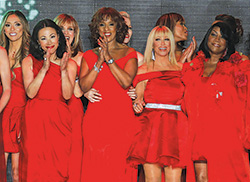 Significant progress has been made in increasing awareness among women that heart disease is their #1 killer. Still, many women fail to make the connection between heart disease risk factors and their personal risk of developing the disease. This disease is largely preventable, but kills more women than all forms of cancer combined.
Heart disease awareness in women has doubled in the last 12 years, and the awareness gap between older and younger women is narrowing, according to the National Heart, Lung, and Blood Institute (NHLBI). Data also show that women are taking preventive actions. Women who know that heart disease is the leading cause of death are more likely to be physically active and try to lose excess weight.
Although heart disease awareness is on the rise, one-third of women still underestimate their own risk for heart disease. Only 16 percent recognize heart disease as the greatest health problem facing women.
NHLBI) created and introduced the Red Dress as the national symbol for women and heart disease awareness in 2002 to deliver an urgent wake-up call to American women. The Red Dress reminds women of the need to protect their heart health, and inspires them to take action. On National Wear Red Day, wear a Red Dress, red shirt, or red tie to show your support for women and heart disease awareness.
The Heart Truth is building awareness of women's heart disease and empowering women to reduce and prevent their risk. It is reaching women with important heart health messages in community settings through a diverse network of national and grassroots partner organizations.
The Heart Truth campaign is sponsored by NHLBI in partnership with The Office on Women's Health (OWH) and other groups committed to the health and well being of women.
Community organizations across the country are joining The Heart Truth campaign and using its Red Dress symbol to raise awareness about women and heart disease. Educational materials are being distributed at local events and presentations emphasizing women's health issues.
To find out more about women and heart disease, visit The Heart Truth Web pages at www.hearttruth.gov or call the NHLBI Health Information Center at 301-592-8573.
National Wear Red Day
Join The Heart Truth campaign on Friday, February 3, 2012—National Wear Red Day—to help spread the message that "Heart Disease Doesn't Care What You Wear, It's the #1 Killer of Women."