Watch CDC @Work
Check out all the videos below to learn more about CDC′s role in detecting disease outbreaks, responding to emergencies, researching ways to help you stay healthy, and more.
Take a look behind-the-scenes at the command center and staff responsible for coordinating emergency response to domestic and international public health threats. Since 2001, CDC has responded to dozens of events and incidents including the Anthrax attacks, Hurricane Katrina and SARS, Monkeypox, E. coli, and Novel H1N1 Flu outbreaks.
In uncertain times, safeguarding America's health and security is more important than ever. Whether the threat is a disease outbreak, chronic condition, environmental hazard, natural disaster or deliberate attack,CDC works 24 hours a day, 7 days a week to keep Americans safe - in the U.S. and around the world.
Former CDC Director Dr. Foege, 2011 Medal of Freedom recipient, explains his passion for public health.
CDC tracks diseases outbreaks, provides emergency medical supplies, prepares for and responds to emergencies that threaten Americans wherever in the world they might occur.
What does it take to respond to a public health emergency? Dedicated staff, a state–of–the–art response center, a stockpile of emergency medical supplies and equipment, and so much more
Researchers in London estimate that if everyone routinely washed their hands, a million deaths a year could be prevented. From doorknobs to animals to food, harmful germs can live on almost everything. Handwashing may be your single most important act to help stop the spread of infection and stay healthy.
KILLER OUTBREAKS delves into the drama of our planet′s most deadly diseases. In a world where global travel is the norm, the Earth′s most devastating diseases are never more than a plane ride away.
An outbreak of the Ebola virus hits in western Uganda and caused dozens of illnesses or deaths. In RESPONDING TO OUTBREAKS, a team of investigators from the CDC Special Pathogens Branch travels to Uganda. They work to bring the outbreak under control and learn more about the reservoir hosts for the Ebola and Marburg viruses.
CDC global health leadership brings the world′s leading public health experts to a Guatemala cave, where rabid bats threaten human health. These examples of CDC at work in the world help protect America and all from disease threats that respect no borders. Watch the full-length version (7 min).
The mini-documentary chronicles how the US reaches out to Kenya′s largest slum to offer aid in disease prevention and control. 30,000 residents routinely confer with community outreach workers in a campaign to learn more about emerging diseases, and simultaneously provide care for the families taking part. Benefits extend to Americans and the entire world as our disease detectives find new ways to provide early warning of global disease threats that respect no borders.
Get email updates
To receive email updates about this page, enter your email address: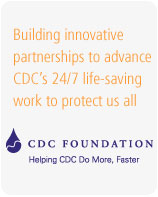 Contact Us:
Centers for Disease Control and Prevention
1600 Clifton Rd
Atlanta, GA 30333
800-CDC-INFO
(800-232-4636)
TTY: (888) 232-6348